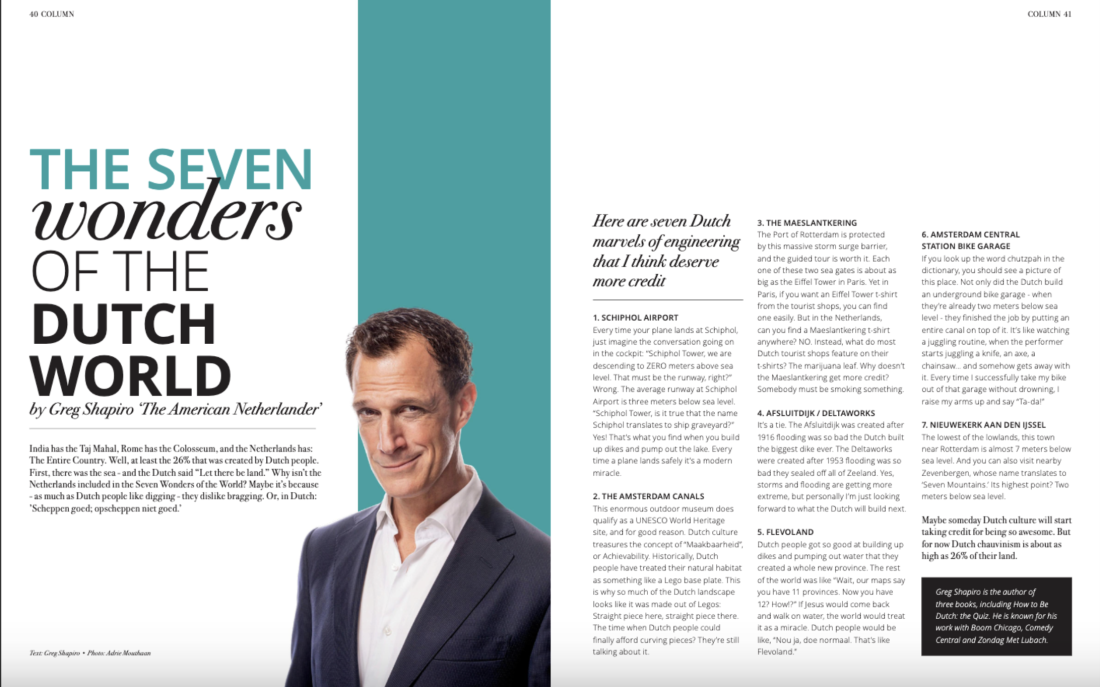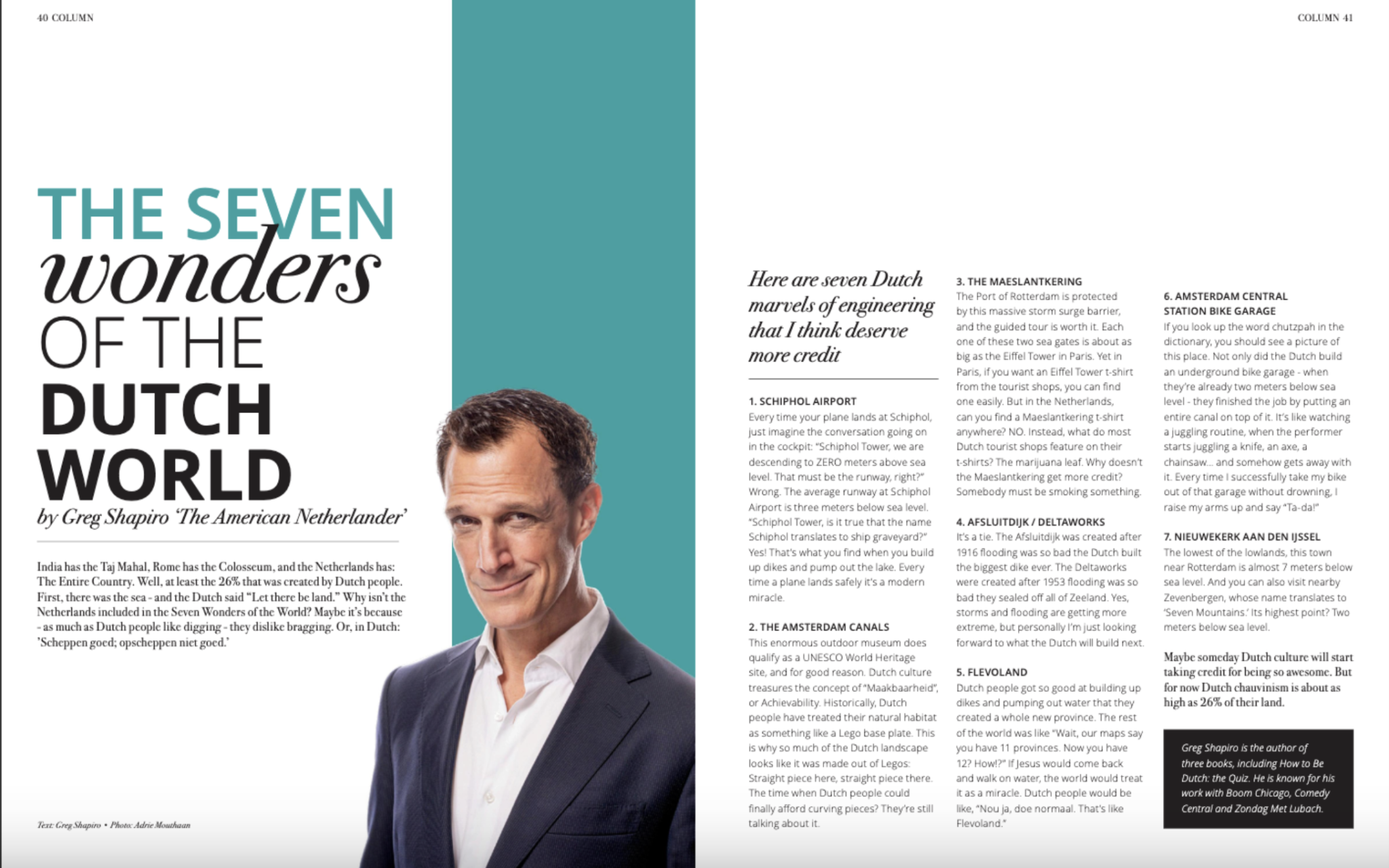 Greg Shapiro Guest Column: THE SEVEN WONDERS OF THE DUTCH WORLD
8 Aug. 2023

As seen in the 2023 edition of Corporate Housing Factory Special: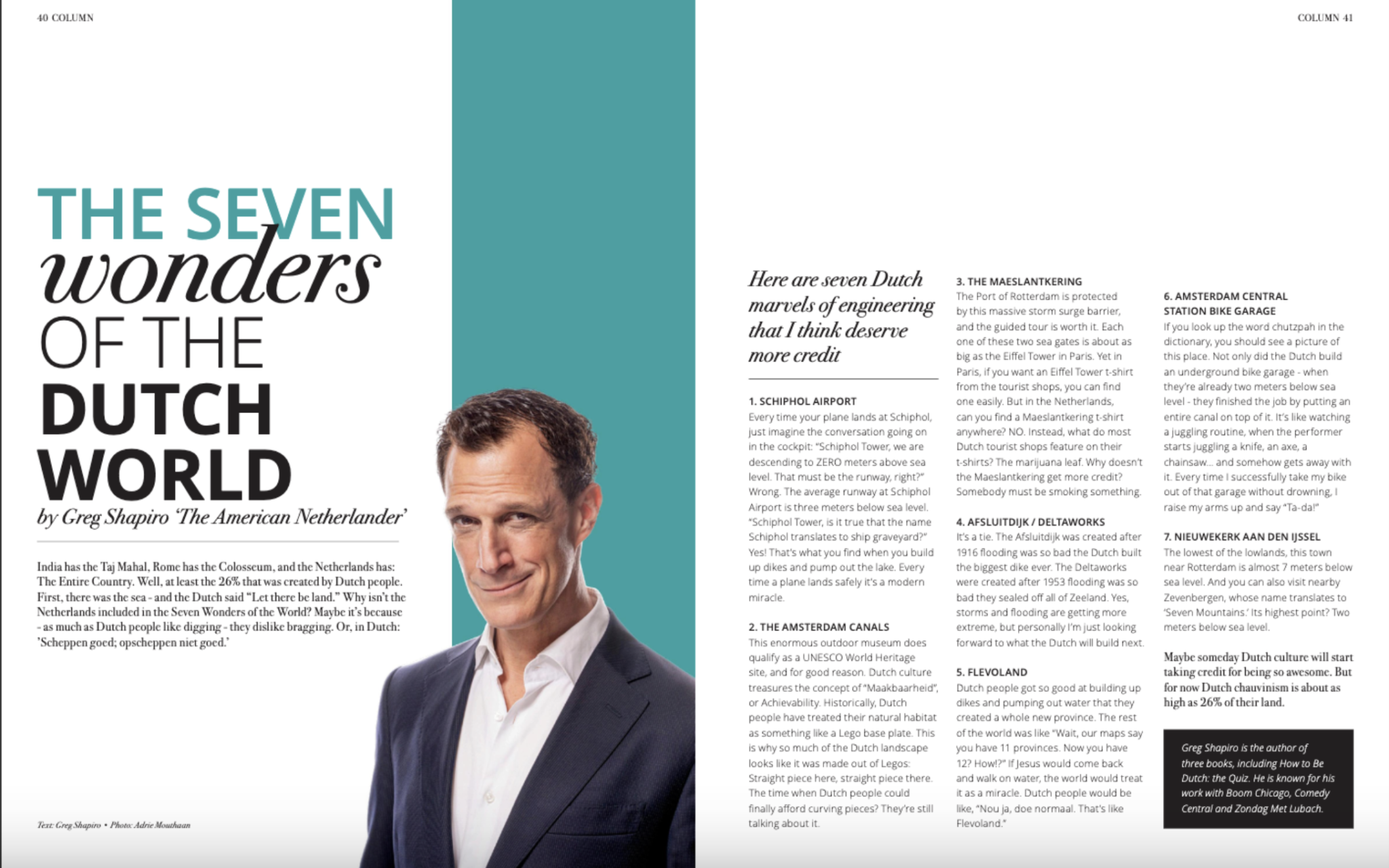 The Seven Wonders of the Dutch World
India has the Taj Mahal, Rome has the Colosseum, and the Netherlands has: The Entire Country. Well, at least the 26% that was created by the Dutch people. First, there was the sea – and the Dutch said "Let there be land."
…Why isn't the Netherlands included in the Seven Wonders of the World? Maybe it's because – as much as Dutch people like digging – they dislike bragging. Or, in Dutch: 'Scheppen goed; opscheppen niet goed.'
Here are seven Dutch marvels of engineering that I think deserve more credit.
1. Schiphol Airport. Every time your plane lands at Schiphol, just imagine the conversation going on in the cockpit: "Schiphol Tower, we are descending to ZERO meters above sea level. That must be the runway, right?" Wrong. The average runway at Schiphol Airport is three meters below sea level.
2. The Amsterdam Canals. Historically, Dutch people have treated their natural habitat as something like a Lego base plate. This is why so much of the Dutch landscape looks like it was made out of Legos: Straight piece here, straight piece there. The time when Dutch people could finally afford curving pieces? They're still talking about it.
3. Zevenbergen. Nearby the lowest point in the Netherlands. Zevenbergen translates to 'Seven Mountains.' Its highest point? Two meters below sea level.
4. The Maeslantkering. The Port of Rotterdam is protected by this massive storm surge barrier, and each one of these two sea gates is about as long as the Eiffel Tower in Paris. Yet in Paris, if you want an Eiffel Tower t-shirt from the tourist shops, you can find one easily. But in the Netherlands, can you find a Maeslantkering t-shirt anywhere? NO. Instead, what do most Dutch tourist shops feature on their t-shirts? The marijuana leaf. Why doesn't the Maeslantkering get more credit? Somebody must be smoking something.
Next up:
5. Flevoland
6. Amsterdam Central Station Bike Garage
7. Afsluitdijk / Deltaworks
Want to read about 5/6/7? Click here:
https://issuu.com/zuidaspublishers/docs/chf_magazine_2023
Read my book about how the Netherlands Deserves More Credit
https://gregshapiro.nl/greg-shapiros-new-book/