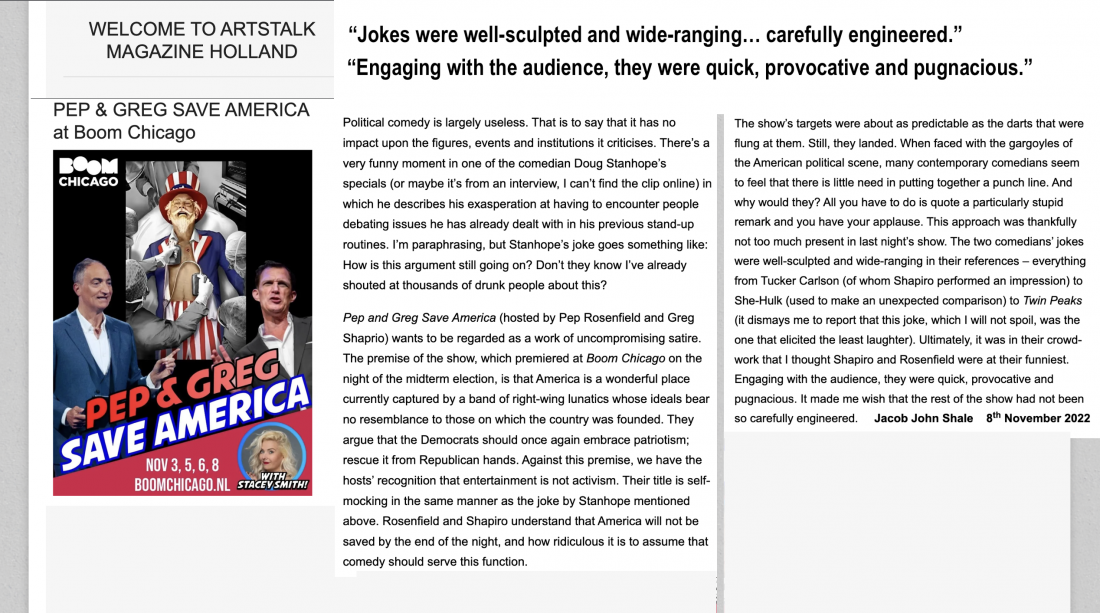 November 15, 2022
In
Blog
Review: PEP & GREG SAVE AMERICA at Boom Chicago
as seen in ArtsTalkMagazine.nl
"JOKES WERE WELL-SCULPTED AND WIDE-RANGING."
"ENGAGING WITH THE AUDIENCE, THEY WERE QUICK, PROVOCATIVE AND PUGNACIOUS."
15 November, 2022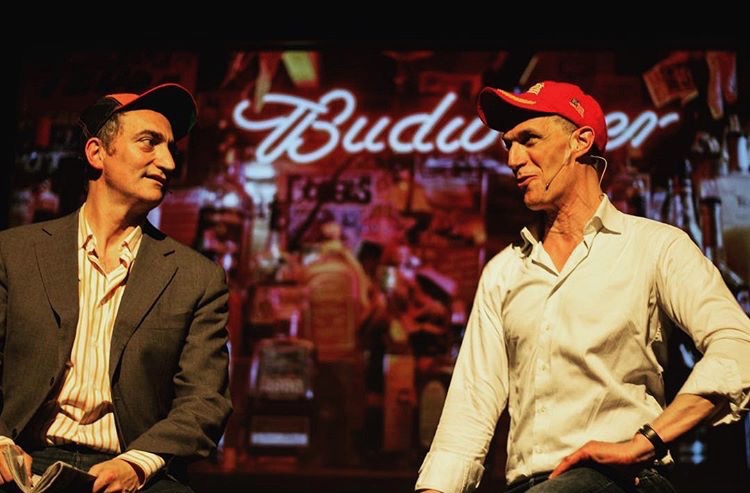 REVIEWED BY Jacob John Shale :
Political comedy is largely useless. That is to say that it has no impact upon the figures, events and institutions it criticises. There's a very funny moment in one of the comedian Doug Stanhope's specials (or maybe it's from an interview, I can't find the clip online) in which he describes his exasperation at having to encounter people debating issues he has already dealt with in his previous stand-up routines. I'm paraphrasing, but Stanhope's joke goes something like: How is this argument still going on? Don't they know I've already shouted at thousands of drunk people about this?
Pep and Greg Save America
(hosted by Pep Rosenfeld and Greg Shapiro) wants to be regarded as a work of uncompromising satire. The premise of the show, which premiered at Boom Chicago on the night of the midterm election, is that America is a wonderful place currently captured by a band of right-wing lunatics whose ideals bear no resemblance to those on which the country was founded. They argue that the Democrats should once again embrace patriotism; rescue it from Republican hands. Against this premise, we have the hosts' recognition that entertainment is not activism. Their title is self-mocking in the same manner as the joke by Stanhope mentioned above. Rosenfeld and Shapiro understand that America will not be saved by the end of the night, and how ridiculous it is to assume that comedy should serve this function.
The show's targets
were about as predictable as the darts that were flung at them. Still, they landed. When faced with the gargoyles of the American political scene, many contemporary comedians seem to feel that there is little need in putting together a punch line. And why would they? All you have to do is quote a particularly stupid remark and you have your applause. This approach was thankfully not too much present in last night's show.
The two comedians' jokes were well-sculpted and wide-ranging in their references – everything from Tucker Carlson (of whom Shapiro performed an impression) to She-Hulk (used to make an unexpected comparison) to Twin Peaks (it dismays me to report that this joke, which I will not spoil, was the one that elicited the least laughter). Ultimately, it was in their crowd-work that I thought Shapiro and Rosenfeld were at their funniest. Engaging with the audience, they were quick, provocative and pugnacious. It made me wish that the rest of the show had not been so carefully engineered.
 Jacob John Shale    8th November 2022
Review Pep & Greg Save America
http://artstalkmagazine.nl/pep-greg-save-america-at-boom-chicago-amsterdam/
FOR MORE REVIEWS, click here
https://gregshapiro.nl/media/theater-reviews-for-greg-shapiros-latest-shows/