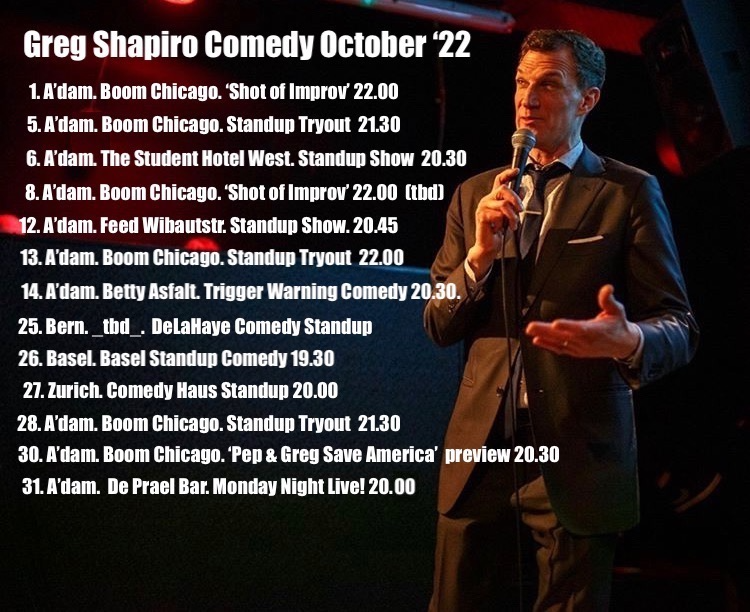 GREG SHAPIRO COMEDY DATES OCTOBER  
1 Oct., 2022
More Standup & Improv shows coming up! Yes, most dates are in and around Amsterdam. But I'll be ending the month touring in Switzerland. (And Paris, you're next.) 
PEP & GREG SAVE AMERICA
It's a pop-up US election show, scheduled for November 3, 5, 6 & 8 (election night). Pep Rosenfeld and I have been making comedy shows together since 1985. My pitch was for the title 'Pep & Greg Save America' and a poster of us putting a pillow over Uncle Sam's face. But maybe Joe 'Dark Brandon' Biden is giving us something worth saving…? And it looks like we'll have Boom Chicago's new Artistic Director Stacey Smith adding some music to the show. In October, we'll be doing a number of free tryouts at Boom Chicago – and a preview on 30 Oct.
DUTCH TO THE RESCUE
My new solo show is based on my video series 'Climate News Comedy' – anything to make climate news funny. It turns out there's plenty of good news, much of it coming from the Dutch – almost. 
– Lowlands Festival unveils the world's largest solar car park! …Now all we need to do is plug it in.
– The world's biggest wind turbine! …Will now be making hydrogen for Shell.
– Solar-powered drinking water from the sea! …Was canceled by activists for using plastic bottles.
Whether it's Dutch innovators or Dutch World Cup teams, they love winning their way to the finals …and then tripping up. Truly, they're more comfortable being 'Netherlands Second.'
MORE IMPROV
Improv comedy is pure joy, and I haven't had enough lately. I'll be joining a couple improv shows in October, and more coming up.

GREG SHAPIRO COMEDY DATES OCTOBER, 2022
1 Oct. A'dam. Boom Chicago 'Shot of Improv' 22.00 https://boomchicago.nl/
5 Oct. A'dam. Boom Chicago Standup Tryout 21.30 https://boomchicago.nl/
6 Oct. A'dam. TheStudentHotel West. Standup show 20.30 (link to come)
8 Oct. A'dam. Boom Chicago 'Shot of Improv' 22.00 (tbd)  https://boomchicago.nl/
12 Oct. A'dam. FEED Wibautstraat. Standup Show 20.45.
https://facebook.com/events/s/feed-comedy-night-ft-greg-shap/844523556918711/
13 Oct. A'dam. Boom Chicago 'Standup Tryout 22.00 https://boomchicago.nl/
14 Oct. A'dam. Betty Asfalt. Trigger Warning Comedy 20.30
https://bettyasfaltcomplex.nl/voorstelling.php?id=1478
25 Oct. BERN. (TBD) DeLaHaye Comedy Standup show ___
26 Oct. BASEL. Basel Standup Comedy Night ___
27 Oct. ZURICH. Comedy Haus Standup ___
28 Oct. A'dam. Boom Chicago Standup Tryout 21.30 https://boomchicago.nl/
30 Oct. A'dam. Boom Chicago 'Pep & Greg Save America' preview 20.30 https://boomchicago.nl/
31 Oct. A'dam. De Prael Bar. Monday Night Live! 20.00
https://www.eventbrite.nl/e/monday-night-live-tickets-375239981887 
See reviews for Pep & Greg's previous political standup show LOCK HIM UP –
https://gregshapiro.nl/portfolio_page/boom-chicago-2020-election-show-lock-him-up/