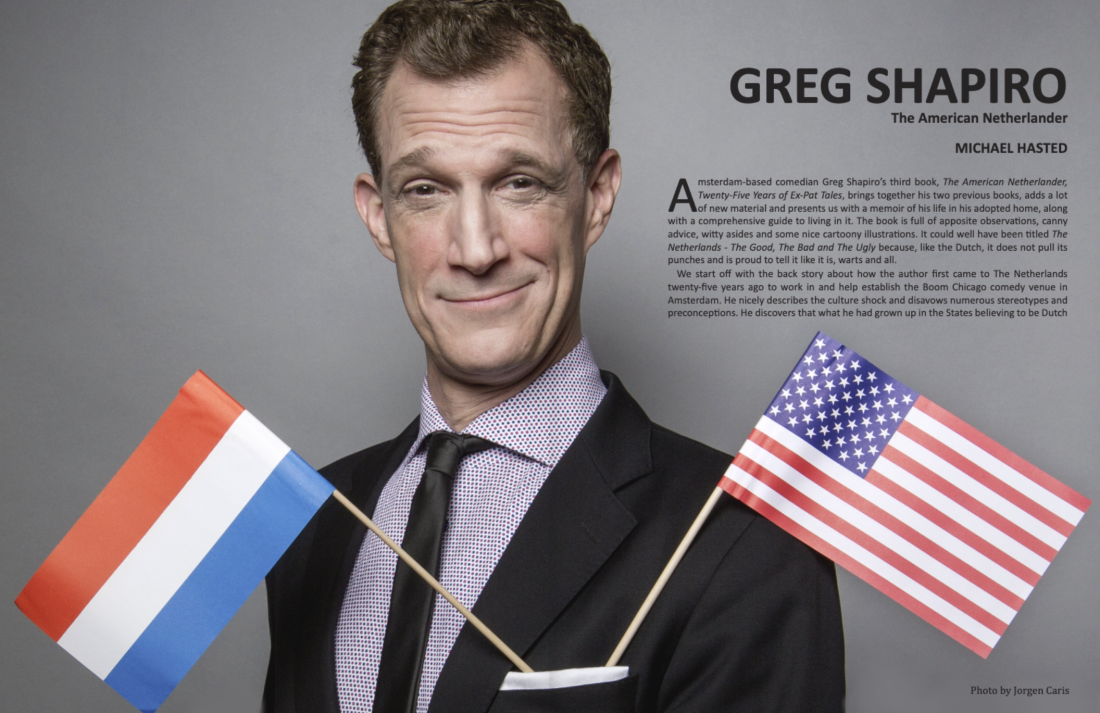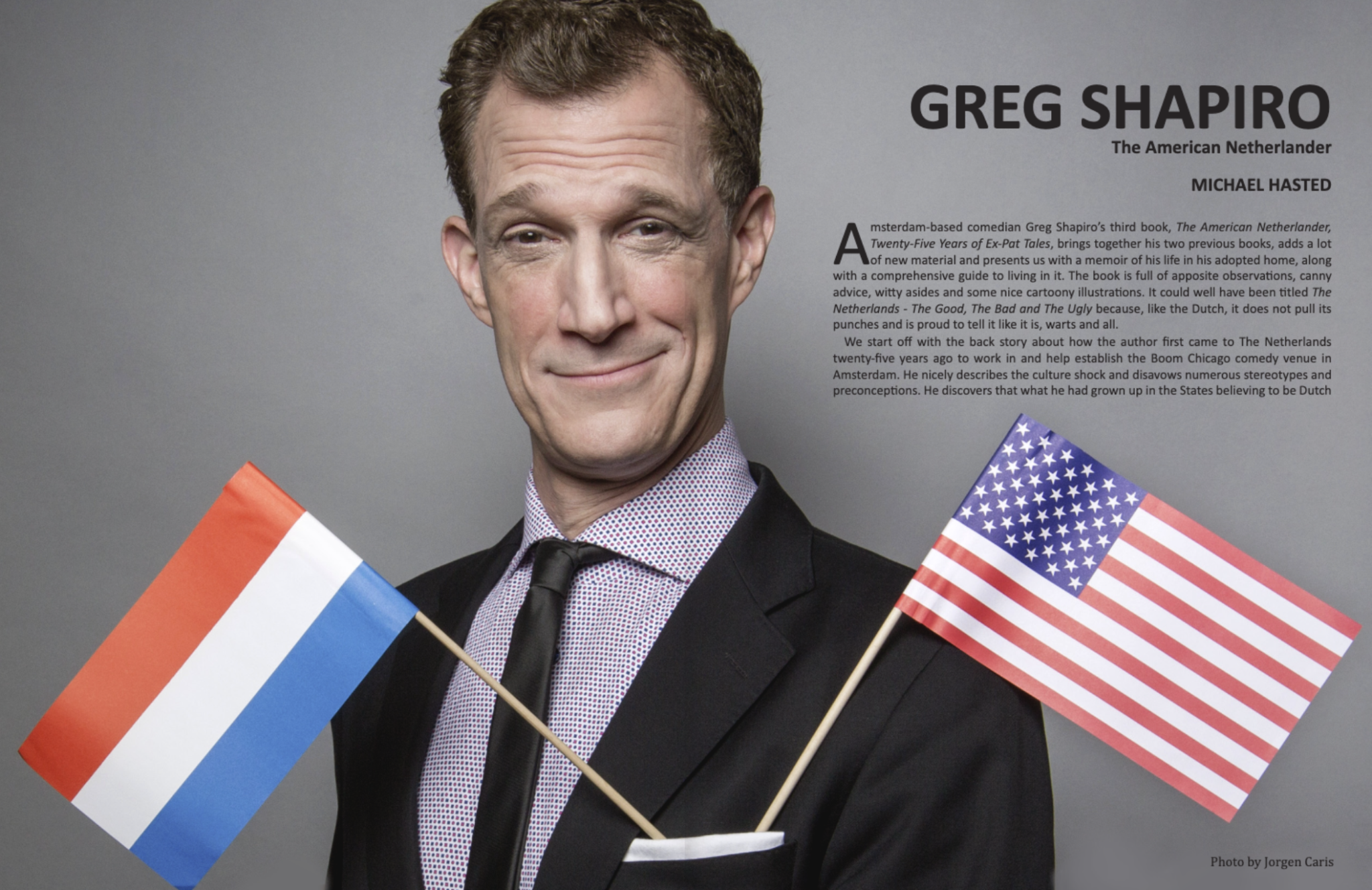 Book Review: 'Shapiro funny, informative'
22 March, 2023
ArtsTalk Magazine reviewed my book again! This time it was for their online supplement, and it's an all-new review.
My third book debuted in 2020: THE AMERICAN NETHERLANDER: 25 Years of Expat Tales.
Click here for the: 
ArtsTalkMagazine Colour Supplement
(pages 18-20)
Below is an excerpt:
Greg Shapiro: The American Netherlander. Book Review

by Michael Hasted. November, 2022
"The book is full of apposite observations, canny advice, witty asides and some nice cartoony illustrations. It could well have been entitled The Netherlands – the Good, the Bad and the Ugly because, like the Dutch, it does not pull its punches.
"Greg takes us, chapter by chapter, through the different aspects of Dutch life and how to cope with – sorry – appreciate them. We learn of course about about sex and drugs and the ubiquitous coffeeshops. We find out more about bike etiquette. And …serious though it is, the Zwarte Piet subject is treated in an easygoing, unpreachy, unjudgmental manner.
"The last section of the book re-utilizes Greg's previous book How to Be Dutch: the Quiz. This section is both funny and informative. Again, this is broken down into sections like bikes, health care, politics and … err… Zwarte Piet.
Book Review 'Shapiro funny, informative'
"There is even a 'Oh, I never knew that' section which lists, in rhyming couplets, things we never knew were Dutch. Like half the place names in New York City, LED lights, multinationals Philips and Shell, the microscope, the discoverers and namers of New Zealand, etc etc.
"To round it all off there are pages of photos of shop signs taken by Greg over the years, showing how Dutch can produce names and words that we English speakers find amusing. For example a hair dresser called Down Under Hair or the Bad Hotel or the Dutch senator called Tiny Kox. You've got to love 'em.
"The American Netherlander provides us with lots of information about the Dutch persona and way of life and is the result of not only Greg's personal experiences and insights but a lot of thorough research as well . Oh and the laughs, don't forget the laughs."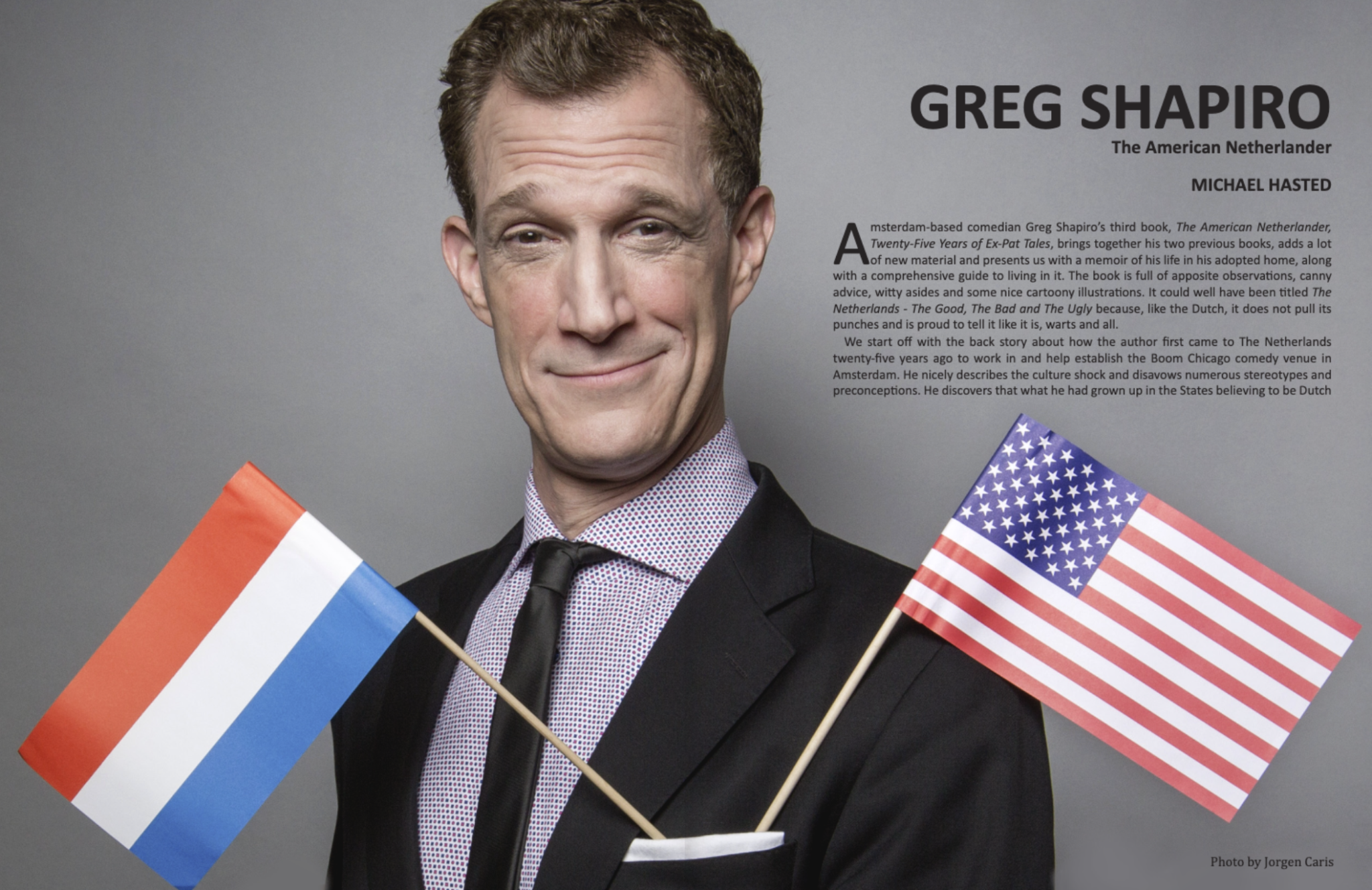 To buy the book, click here: 
https://hollandbooks.nl/product/the-american-netherlander/
For more Greg Shapiro Reviews click here:
https://gregshapiro.nl/media/theater-reviews-for-greg-shapiros-latest-shows/