Boom Chicago 2016 Election Show 'Trump Up the Volume' with Pep & Greg

'Trump Up the Volume' is the show that generated the Trump imitation heard in the viral video 'America First, The Netherlands Second.'
How to do a Donald Trump imitation? Watch Greg Shapiro's tutorial: https://www.youtube.com/watch?v=ESIJU0f6Lu8
THE LONGEST RUNNING SHOW IN BOOM CHICAGO HISTORY
The idea was that Pep & Greg would make fun of Trump until Hillary won in 2016, and then stop. It was a joke! It was supposed to be a joke… Instead, Trump Up the Volume became the longest-running show in Boom Chicago's 25-year history.
Trump Up the Volume started out as an Election Show about the US 2016 primaries, called Angry White Men.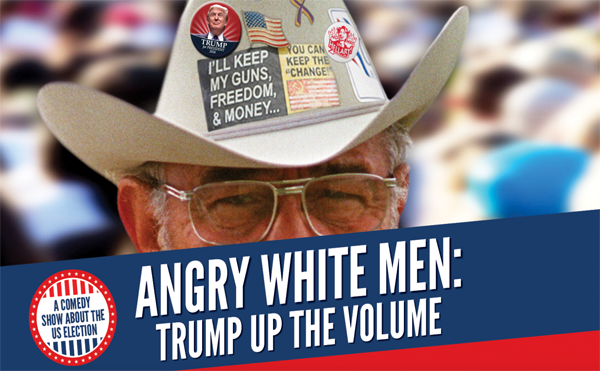 THE SHOW
In Trump Up the Volume, Pep Rosenfeld and Greg Shapiro analyze the US political system using standup and improvisation. First they compare US wealth inequality to a real-life game of Monopoly. Next, they use members of the audience to act out gerrymandering. They even improvise a political debate between the candidates, taking questions from the audience. Finally, they end the show by arguing that – whoever claims victory in 2016 – the real winners are misinformation and polarization. Hence, congratulations to the true victor of the 2016 election: Vladimir Putin.
Watch the show intro: https://www.youtube.com/watch?v=04KBF3LvxtI
TRUMP UP THE VOLUME – THE STANDUP SPECIAL 
The final performance of Trump Up the Volume occurred in April, 2020 – the first month of the Covid Lockdown – as a livestream standup special on YouTube. "With a huge theater and a tiny crew – no audience, everyone 1,5 meters apart – this will be the funniest, most topical show ever done live in a pandemic." Thanks to livestream partners WE ARE LIVE.
Pep Rosenfeld and Greg Shapiro have been writing comedy together since high school. Since their first standup show in 2001, they started doing US Election Shows in 2004 with the help of director Andrew Moskos. This creative team has created seven critically acclaimed political shows on Boom Chicago's stage including Bye Bye Bush, There's No Such Thing as Sinterklaas, and 9/11 Forever.
Pep Rosenfeld is a writer, comedian and hilarious host of TED talks and events like The Next Web. He was nominated for an Emmy award for his writing on Saturday Night Live.
Greg Shapiro is a comedian, actor and author. And he was the voice of Donald Trump in Arjen Lubach's viral smash 'America First, The Netherlands Second.'
Director Andrew Moskos also directed Sitcom, now playing at Boom Chicago. He co-wrote Prime Minister Mark Rutte's 'most successful speech ever,' for the Correspondents Dinner.
GREG SHAPIRO REVIEW PAGE:
https://gregshapiro.nl/media/theater-reviews-for-greg-shapiros-latest-shows/
GREG SHAPIRO'S SOLO SHOW 'THE MADNESS OF KING DONALD'
https://gregshapiro.nl/portfolio_page/greg-shapiros-5th-solo-show-the-madness-of-king-donald-2019/
WATCH: TRUMP UP THE VOLUME – A LIVESTREAM COMEDY SPECIAL (PART 1 of 3) on YouTube