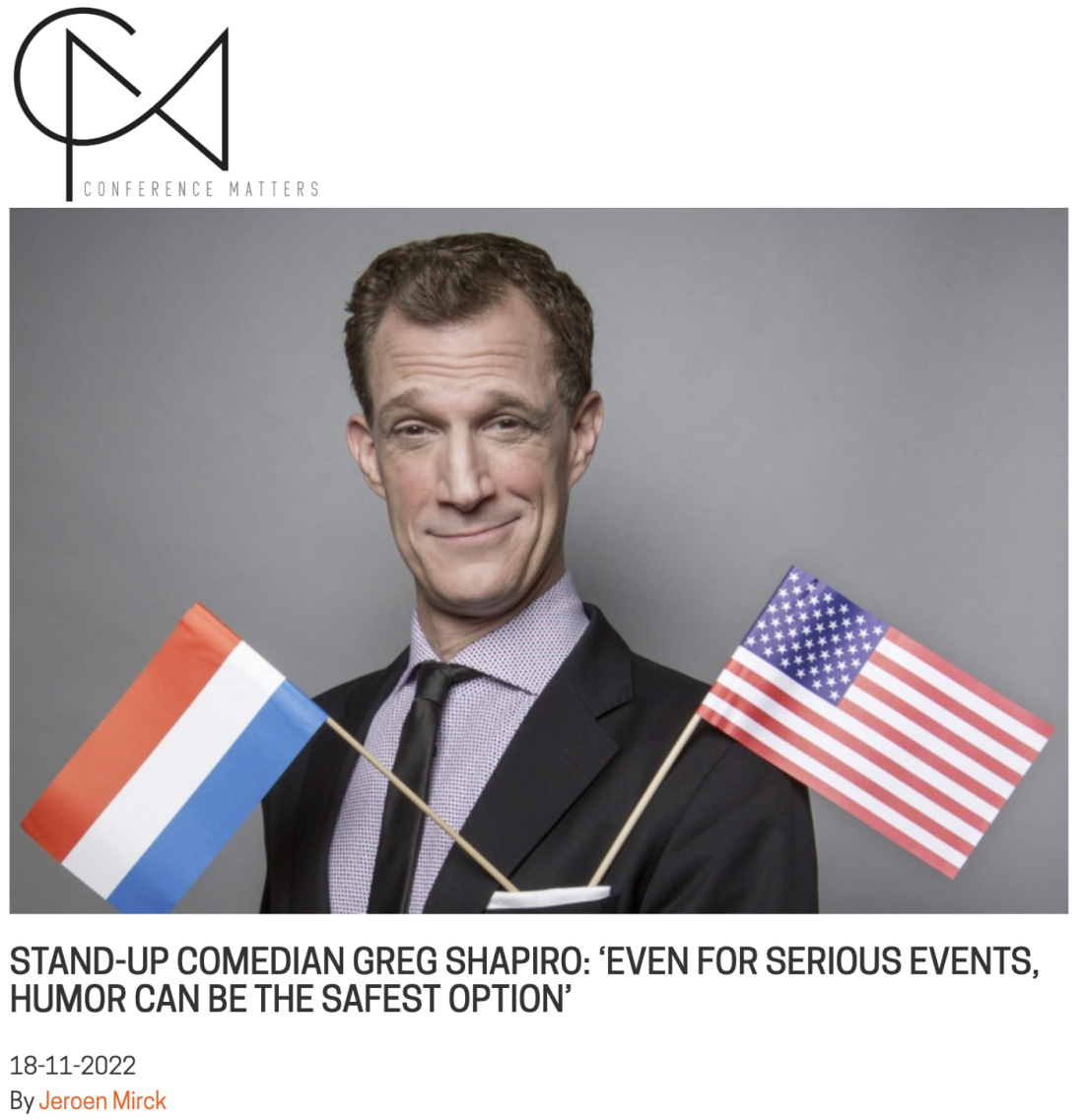 Greg Shapiro in 'Conference Matters' Magazine
Finally, a magazine dedicated to Sharing Best Practice in the (Corporate) Events Sector! Conference Matters Magazine. I was happy to be interviewed for Conference Matters, and Jeroen Mirck's questions were so good I love him now. Here's a preview of the interview. Please do click the link and subscribe to the magazine, if you care about quality events.
https://conferencematters.nl/en/greg-shapiro-humor-can-be-the-safest-option-for-serious-events/

STAND-UP COMEDIAN GREG SHAPIRO: 'EVEN FOR SERIOUS EVENTS, HUMOR CAN BE THE SAFEST OPTION'
CONFERENCE MATTERS MAGAZINE, 18-11-2022
By Jeroen Mirck
Greg Shapiro is a Dutch American comedian who gathered world fame with his vocal impersonation of Donald Trump in the viral 'Netherlands Second' video. He started his career as a member of the comedy group Boom Chicago and became a popular speaker at business events. "Humor is the safest option at a serious business event."
Greg Shapiro was seven years old when he saw the first season of Saturday Night Live. "That's when I knew I wanted to be a comedian. And I found out that John Belushi, Gilda Radner and Bill Murray all started their careers at this one theater called The Second City. And it was in my hometown, Chicago! 'The Second City,' as in 'New York first, Chicago second.' …It was indeed my destiny."
Did the viral video of your Trump impersonation in the Dutch tv show of Arjen Lubach change your life?
"Totally changed my life, bigly. Hyuge! Hahaha. I don't know if the 'Netherlands Second' video changed my life, but I did enjoy hearing that it was used by the Dutch foreign ministry for trade missions! Personally, I used my Trump impression for a whole standup show – as well as for conferences like The Next Web. We interrupted the show with screens saying 'Donald Trump Live by Phone' and had me doing a voiceover from offstage. Then Trump would improvise his reaction to how the conference was going so far. It's a formula we used many times since!"
When is humor a good recipe for a serious business event?
"Humor is always good. Even during a serious business event, humor can actually be the safest option. I recently hosted an event where the CEO wanted me to create an informal atmosphere – a 'safe space' for the audience to feel comfortable asking the difficult questions. And sure enough, someone asked about accusations of 'greenwashing.' The CEO gave a serious answer and admitted that in the past few years the accusations were partly true. And that's why they'd appointed their first-ever Chief Sustainability Officer. Once he was done, I turned the humor back up to 100% by saying that if anyone complains about Dutch companies not being green enough, remind them that Shell Oil is now located in the UK."
What is your expert advice for hosts and speakers who want to be funny?
"Good news! You don't have to do anything – just be yourself. As we say in improv comedy, 'Truth is funnier than fiction.' All you need is a good co-host to help you be yourself. You need a good wing man!"
Greg Shapiro in in 'Conference Matters'
https://conferencematters.nl/en/greg-shapiro-humor-can-be-the-safest-option-for-serious-events/
——-
Click here for Greg Shapiro on being a Cheerleader for the Netherlands, in Speakers Academy Magazine
https://gregshapiro.nl/blog/greg-shapiro-netherlands-cheerleader/