Greg Shapiro 'NETHERLANDS CHEERLEADER' – Speakers Academy Magazine, 2022-23
by Jacques Geluk
Greg Shapiro is world-famous, ever since he perfectly imitated Donald Trump's voice in Arjen Lubach's 'Netherlands Second' video. (It's since been viewed almost 30 million times). Shapiro is already known in the Netherlands for his work with Boom Chicago comedy theater, and previously as host and writer of Comedy Central News. Now, he is also an author and vlogger, and he frequently focuses on the Netherlands and Dutch innovations – a self-proclaimed 'cheerleader for the Netherlands.'
Shapiro moved to the Netherlands in 1994 and is married to a Dutch woman. "Came for work, stayed for love." By now he has lived here more than half his life, hence he knows both American and Dutch culture quite well. He often gives a 'Masterclass' in Dutch culture called 'Culture Shock Therapy,' or additionally 'How to Be Dutch: the Quiz.'
Given Shapiro's unique Dutch-American status, he is a popular bilingual speaker at major events. He is known for hosting or performing for NATO, for the president of France, and for King Willem Alexander. "I've lived here long enough to be proud of the Netherlands, but I'm still American enough to not care how loud I am about it," says Greg in his native language. "I am frequently asked by Dutch or multinational companies for business events, often to talk about culture shock. I confront the stereotypes like sex, drugs – and Dutch cheapness. Then I go into more detail, realizing that it's actually better here than I was used to in America. As 'The American Netherlander' [which is also the title of his last book from 2020], I am already a fan of Dutch inventions, innovations, water management. I've become a kind of cheerleader."
Business card
Shapiro finds it interesting that the 'Netherlands Second' video has been used by Prince Constantijn and the Netherlands Foreign Investment Agency during trade missions – as a kind of business card. "And as far as water management is concerned, yes there's the Afsluitdijk – a marvel of water engineering. And there's the Deltaworks in Zeeland – but also the New Orleans Deltaworks, built with the help of Dutch engineers at Royal Haskoning. It's like the old commercials from Centrale Beheer: 'Have a problem? Better call the Netherlands.' Hurricane Katrina? Better call the Netherlands. Containership stuck in the Suez Canal? Better call the Netherlands (Boslkalis)."
"So many examples to mention! And not only foreigners are surprised to learn these companies are Dutch – it's Dutch people too. Dutch folks are not giving themselves enough credit. That's where I come in. And I'm collecting new examples all the time – for the shows and projects I do for clients like TU Delft, for Mosa Meat (lab-grown 'cultivated' meat) and for Wageningen University & Research."
Event Host of the day
As an 'improv comedian', Greg Shapiro is also the almost ideal event host of the day. He puts guests, audience and organizations at ease with a lot of humor and always without being rude. If something goes wrong with the sound, a speaker who is not comfortable, the timing or the connection during a webinar… he improvises immediately, thanks to his many years of theater experience. "The unexpected actually makes it all a bit more lively and interesting for everyone."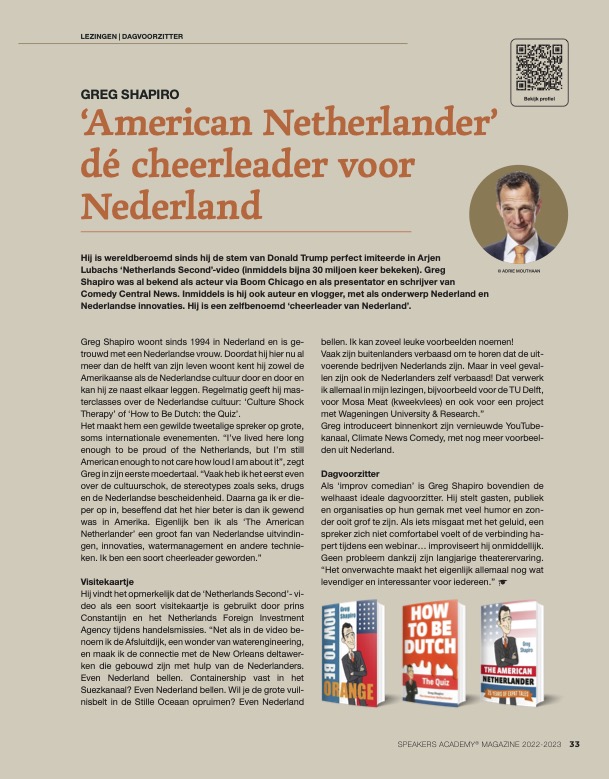 Greg Shapiro NETHERLANDS CHEERLEADER – in het nederlands
'Een Cheerleader voor Nederland'
Hij is wereldberoemd sinds hij de stem van Donald Trump perfect heeft geïmiteerd in Arjen Lubachs 'Netherlands Second' video (inmiddels bijna 30 miljoen keer bekeken). Greg Shapiro is al bekend via Boom Chicago theater en als gastheer en schrijver van Comedy Central News. Nu is hij ook auteur en vlogger, met als onderwerp Nederland en Nederlandse innovaties. Hij is een zelfbenoemd 'cheerleader van Nederland.'
Greg Shapiro woont sinds 1994 in Nederland en is getrouwd met een Nederlandse. Doordat hij nu al meer dan de helft van zijn leven hier woont kent hij zowel de Amerikaanse als de Nederlandse cultuur heel goed en kan hij ze naast elkaar leggen. Vaak geeft hij een 'Masterclass' in Nederlandse cultuur die heet 'Culture Shock Therapy,' of zelfs 'How to Be Dutch: the Quiz.'
Mede daardoor is hij een gewilde tweetalige spreker op grote evenementen, voor zelfs de president van Frankrijk, de NAVO, en voor Koning Willem Alexander. "I've lived here long enough to be proud of the Netherlands, but I'm still American enough to not care how loud I am about it", zegt Greg in zijn eerste moedertaal.
"Ik word meestal gevraagd door multinationale bedrijven voor grote B2B evenementen. Vaak praat ik over cultuurschok, de stereotypes met thema's als seks, drugs – en de Nederlandse bescheidenheid. Daarna ga ik er dieper op in, beseffend dat het hier eigenlijk beter is dan ik gewend was in Amerika. Eigenlijk ben ik als 'The American Netherlander' (wat ook de titel is van mijn laatste boek uit 2020) al fan van Nederlandse uitvindingen, innovaties, watermanagement en andere technieken. Ik ben een soort cheerleader geworden."
Visitekaartje
Hij vindt het interessant dat de 'Netherlands Second'- video is gebruikt door prins Constantijn en het Netherlands Foreign Investment Agency tijdens handelsmissies als een soort visitekaartje. "Wat het watermanagement betreft benoem ik net als in de video de Afsluitdijk, een wonder van waterengineering, en maak ik de connectie met de deltawerken, en met de New Orleans deltawerken gebouwd met hulp van Nederlanders. Even Nederland bellen. Ik heb zo veel leuke voorbeelden te noemen! Vaak zijn buitenlanders verbaasd te horen dat de uitvoerende bedrijven Nederlands zijn. Maar vaak zijn ook Nederlanders zelf verbaasd! Dat verwerk ik allemaal in mijn lezingen, voor TU Delft, voor Mosa Meat (kweekvlees) en ook voor een project met Wageningen Universiteit & Research."
Greg introduceert ook zijn vernieuwde YouTube-kanaal, Climate News Comedy, met nog meer voorbeelden uit Nederland.
Dagvoorzitter
Als 'improv comedian' is Greg Shapiro bovendien de welhaast ideale dagvoorzitter. Hij stelt gasten, publiek en organisaties op hun gemak met veel humor en altijd zonder grof te zijn. Als iets misgaat met het geluid, een spreker die zich niet comfortabel voelt, de timing of de verbinding tijdens een webinar… improviseert hij onmiddellijk, Geen probleem dankzij zijn langjarige theaterervaring. "Het onverwachte maakt het eigenlijk allemaal nog wat levendiger en interessanter voor iedereen."
door Jacques Geluk, juli 2022
GREG SHAPIRO'S VLOG: 'WHY THE DUTCH DIG DIGGING'
https://www.youtube.com/watch?v=YILSxeIhWwg
GREG SHAPIRO CORPORATE EVENTS
https://gregshapiro.nl/greg-shapiro-corporate-events/