November 30, 2023
In
Blog
Shapiro at Royal Comedy Event
28 november 2023
In Praise of Folly! This year's Dutch Erasmus award was given to a comedian: Trevor Noah. It was an event full of Dutch comedy royalty – and actual Dutch royalty.
The event started with King Willem Alexander making jokes – and getting laughs! "I have the distinction of having sat on the lap of the previous winner, the last time it was a comedian: Charlie Chaplin in 1965. …Don't worry, this is not a Dutch tradition."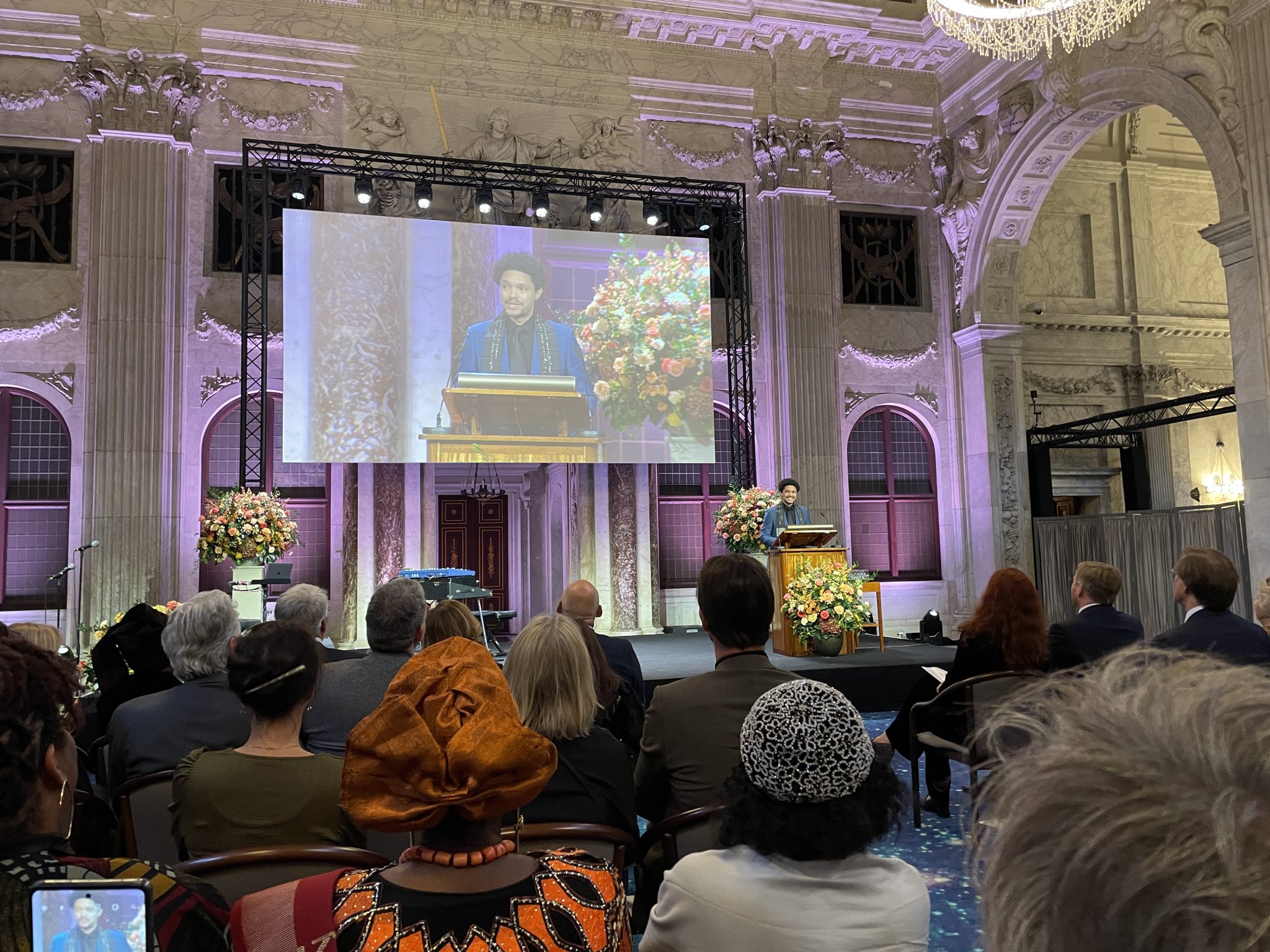 Trevor Noah actually made fewer jokes than expected – until the end: "I'm very proud that – after 220 years – a South African is able to take a few resources from the Netherlands back to the Cape." He zinged the King!
Then he went and sat down in between the King and his mother, (former) Queen Beatrix. It was like watching a mini White House Press Correspondents' Dinner.
After the Royal Comedy Event – SCHMOOZING WITH THE KING
If you've never been inside the Paleis op de Dam, I can recommend visiting when the Dutch royal family is hosting. I've attended events with King Willem Alexander before, but he's usually whisked away quickly. This time the Dutch King seemed to want to stick around and chat with Dutch comedy royalty, like Claudia de Breij and Peter Pannekoek and even Andrew Moskos. "Is it harder to make jokes in a tense political climate? What kind of jokes go too far?" (And I was thinking "Is it all a bit too white?") But then Soundos el-Ahmadi swooped in and took over. "Can I take a selfie?" Willem Alexander: "I'm not allowed to say yes." Soundos: "That's not 'NO'!" So she broke open the floodgates (a true Dutch taboo), and then everyone got selfies with the King. I did mine modestly, from a distance. To make sure it would be the worst selfie ever:

THE GREEN KING
But I did talk to the King! I told him I might see him at the event I'm hosting next spring for the Dutch green startup Growy and the first harvest of their urban vertical farm in Amsterdam. He said "Sounds interesting," which I relayed to the founder of Growy – who still doesn't believe me.
(I also bumped into former Queen Beatrix! She is so little, and she was saying "I can't see… Where is my son?" So I cleared a path for her. A couple people gave me eye daggers, but then they saw who was behind me, and they moved aside real quick. At the end I asked her for a photo, and she looked at me like I was crazy.)
And yes, I said hi to Trevor Noah. But I didn't take a photo, because he was getting mobbed. Trevor, next time I see you I'll say thanks for the inspiring words. Yes, comedy does connect people. Even if we oppose each other politically, when we share a laugh – in real time – we agree.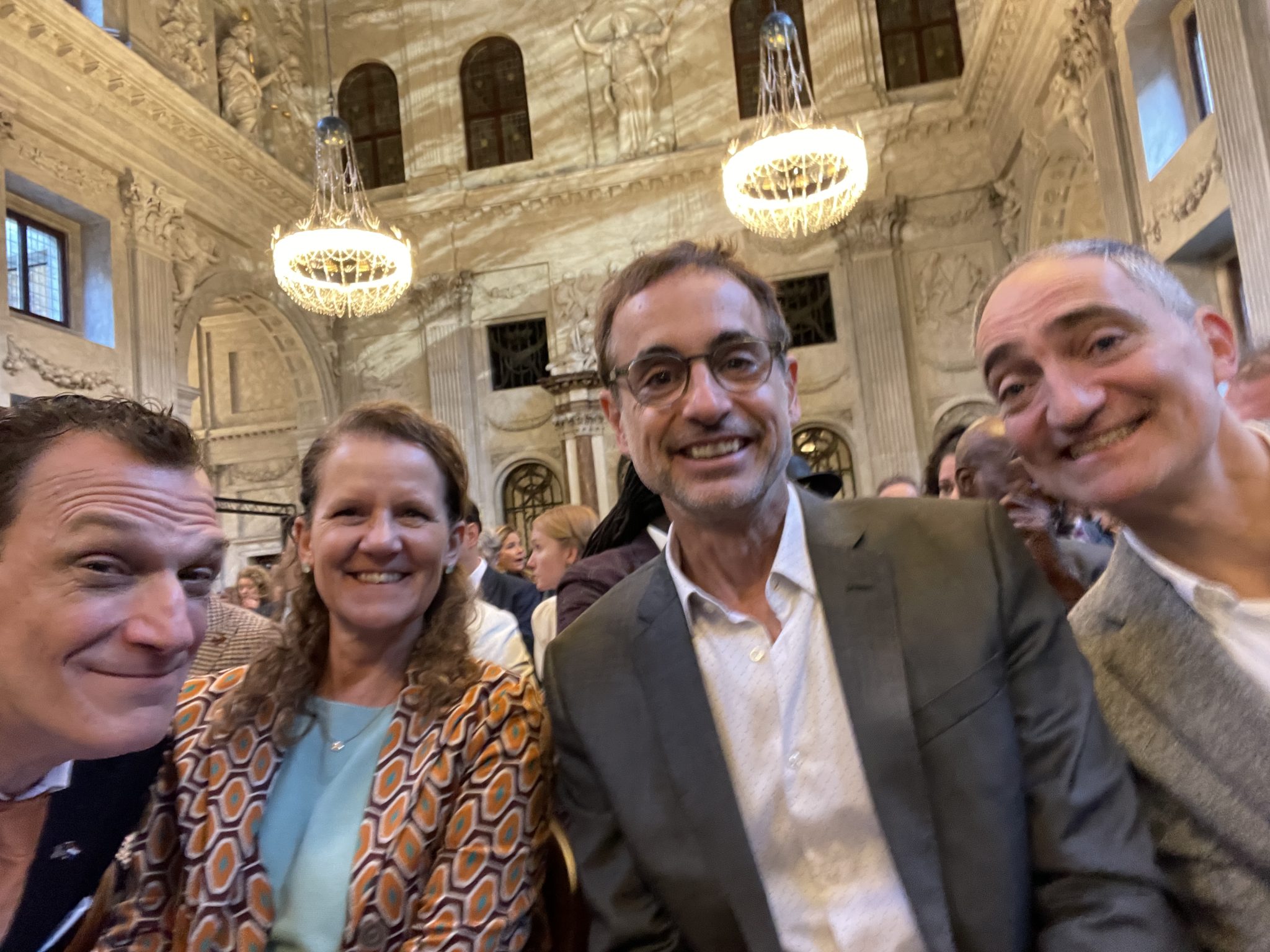 Thank you to the PraemiumErasmianum for the invite! Thank you to Boom Chicago for saving me a seat. And thank you to Erasmus the philosopher who was indeed Dutch. Without his writings, there would be no Reformation or Protestant religion. His "most famous" work is a socio-political satire called In Praise of Folly. Happy 65th Anniversary to the Erasmus Awards. You did well to pick a comedian.
King and Trevor Noah Make Jokes at Erasmus Award Ceremony
https://nos.nl/video/2499585-koning-en-trevor-noah-maken-grappen-over-en-weer-bij-uitreiking-erasmusprijs
For more tales of Greg performing for King Willem Alexander, check out the book – The American Netherlander: 25 Years of Expat Tales.