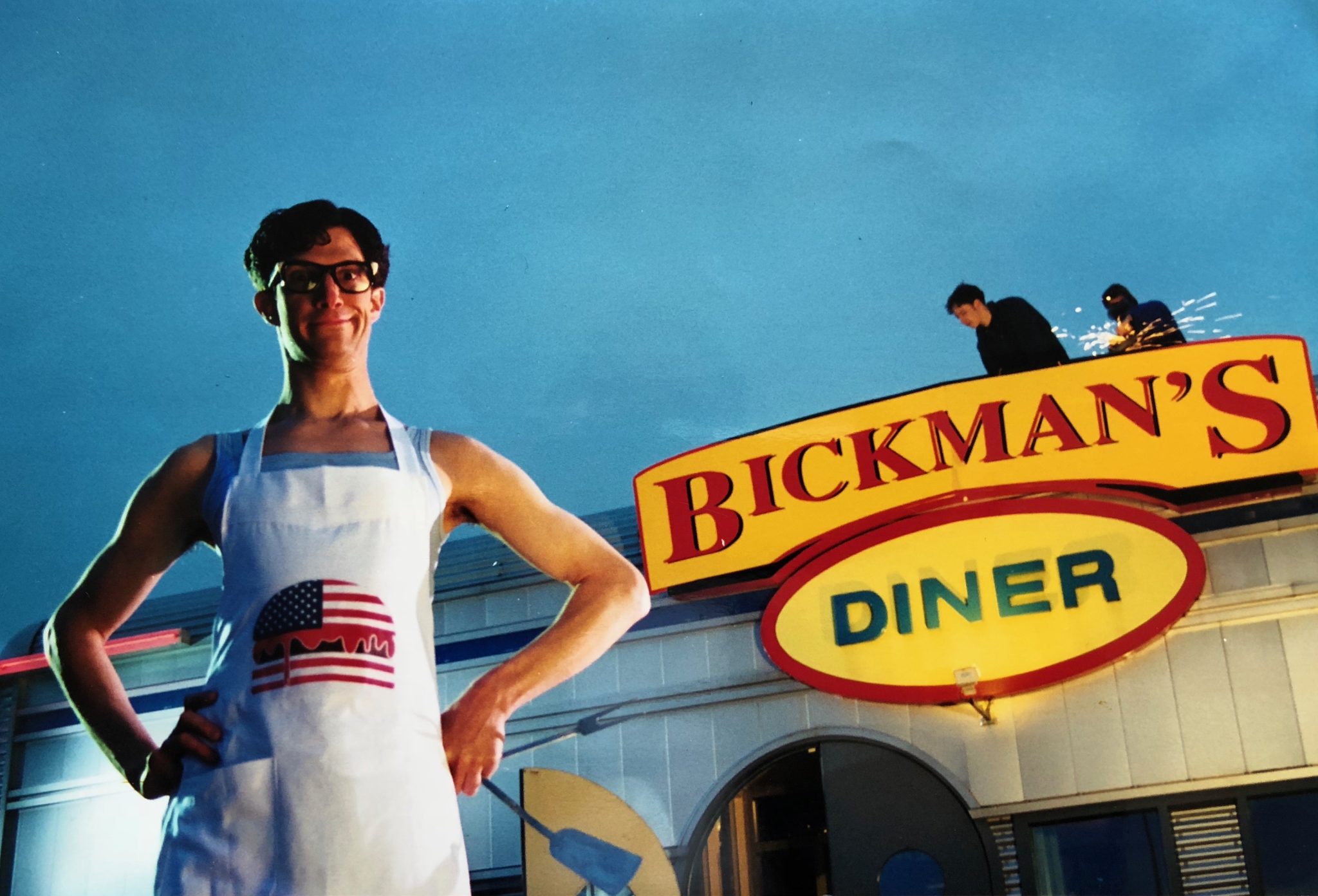 GREG SHAPIRO RARE VIDEO
29 June, 2023

In 2001, I starred in a short film about a serial killer / hamburger entrepreneur: THE AMERICAN BICKMAN BURGER. Fellow Boom Chicago performer Brendan Hunt co-starred in the film, and his devil makeup and prosthetic horns are legend! I mean they are worthy of Tim Curry in the film Legend. (Whereas my old-age makeup makes me look like Tim Curry's butt.)
Nowadays you may know Brendan Hunt as Coach Beard from the Emmy Award winning TV series Ted Lasso. Here you can see some of the same dance moves Brendan now uses on AppleTV.
The writer / director of The American Bickman burger was Michael John Fedun, from Dutch Netwerk6 Productions. And who portrayed one of the dead bodies in the meat locker? It was future Dutch film director Tim Oliehoek. [Note: back in 2000, my professional name was Greg Shore. I'm still working to update all those old credits.]
Plot summary:
The life story of an American legend, Bickman Pike. Bickman kills his parents, grows into a serial killer, and turns the dead bodies into hamburgers. Not to be outdone, Bickman's son reveals that he is Satan and unleashes his evil creation on the world: disco music.
Here is a link to the 4-minute acting demo:
And here is a link to the entire short film, thanks to casting director and featured player Chip Bray of International Native Casting:
From the Netherlands Film Commission:
"In eighteen minutes, the fictional documentary The American Bickman Burger by Michael John Fedun makes mincemeat of the ideal of 'The American Dream'. In ineluctable images, the film tells the success story of Bickman Pike, who sets up a fast-growing chain of hamburger restaurants in the 1950s."
From IMDB:
"In a world where killing is legal and traffic violations are punishable by life in prison. A serial killer named Bickman Pike frantically chases after his life long dream to marry and have children. Along the way he creates the worlds largest fast food chain. Its success made possible by Bickman's victims being ground up into addictive hamburger patties. The world stands in awe of the Bickman phenomenon while reporter Walter Fufckin and his cameraman Barney Wright struggle to bring the world a proper representation of the facts. Bickman finally marries a Las Vegas dancer named Mimi Marigold, almost immediately their son Peter Pike is unleashed upon the world. Like his father before him, Peter attempts to make his own dream a reality. Not even the hand of God is able to put a stop to Peter Pike's agonizing master plan."
https://www.imdb.com/title/tt0275914/?ref_=ttpl_ov

For more Greg Shapiro as Actor / Voiceover, click here:
https://gregshapiro.nl/greg-shapiro-actor-voiceover/