Greg Shapiro Teams Up with Ken Parsons for Berlin Mini-Tour Oct. 2023
27 sept., 2023
UNSUNG HEROES: Comedy veterans Greg Shapiro and Ken Parsons team up to tell stories of their early days. Ken Parsons was busking in Berlin in the days of 1989. Greg Shapiro was one of the originals at Boom Chicago theater in Amsterdam. Together they perform a mini-tour of Berlin.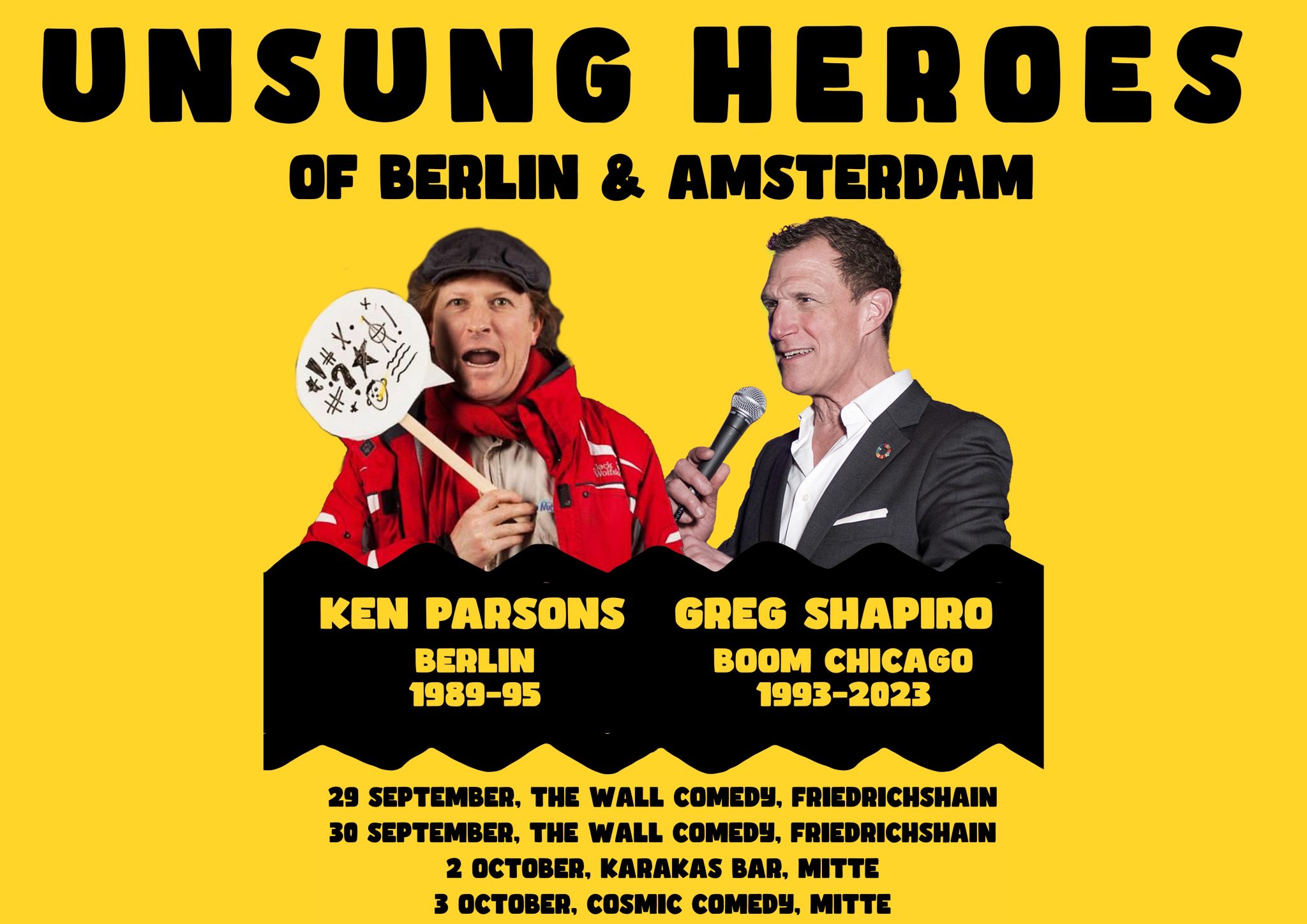 Comedians Ken Parsons & Greg Shapiro:
Both were born in '68, the year of tumultuous change and revolt.
Both left their native lands to seek their fortunes abroad.
Both have stuck to their guns and have watched the projects they helped kick-start flourish.
Greg achieved critical acclaim with his voice of Trump in the viral video 'Netherlands Second'.  Ken set up a series of autonomous comedy stages which soon became renowned and have featured international acts, prompting Time to dub him 'The Maestro of the Underground'.
Be a hero, too and try and catch them! All of the shows will be great but the Finale of the Tour at the brilliant Cosmic Comedy Club will be the one to head to if you want to see the show in its longest form!
Geil, ey!  Toppie, hoor!
Greg Shapiro and Ken Parsons: The 'Unsung Heroes' Berlin 29 Sept – 3 Oct  
29/09 The Wall Comedy, Friedrichshain
30/09 The Wall Comedy, Friedrichshain
01/10 East West Comedy, (open mic try out) Kreuz-Kölln
02/10 Karakas Bar, Mitte
03/10 Cosmic Comedy, Mitte
BIOGRAPHY GREG SHAPIRO
Greg Shapiro: Comedian, American, Dutchman. (And the voice of the 'Netherlands Second' video with imitators like Neo Magasin Royal). Shapiro was the host of Comedy Central News: "because Dutch news is news too." His voice has appeared on ZDF's Heute Show. And he helped establish the Amsterdam comedy theater Boom Chicago, helping launch the careers of alumni like Seth Meyers, Jordan Peele and the creators of Ted Lasso.
With Boom Chicago, Shapiro performed shows in memorable settings. He performed a show on 9/11. He has performed for the King of the Netherlands, French President François Hollande, and NATO. He has also performed on moving buses, student living rooms, and once in the Business Class section of a KLM 747 flying to Chicago. Shapiro's latest standup special is Greg Shapiro Saves the Climate: 60 Minutes of Climate Good News.
BIOGRAPHY KEN PARSONS
The Wall Years
Ken comes from Plymouth but together with his friend Chris Stevens they formed a band called Who's Rachel?
Ken- as if in an ETA Hoffmann tale- went on to study German and was assistant teacher at the Robert Koch school in Kreuzberg, aptly enough in Berlin's 'Grimm Kiez'.   Ken wrote a thesis on folklore and the style of his stories can be called 'punk parables' or 'urban fairy tales.'