Greg Shapiro's Superburger: the Man with Split Nationalities (2012) – His 3rd Solo Show
Greg Shapiro's 'Superburger' – If you've ever lived in a country – where you didn't grow up – you could be a 'Superburger.' Burger as in citizen. Super as in more than one.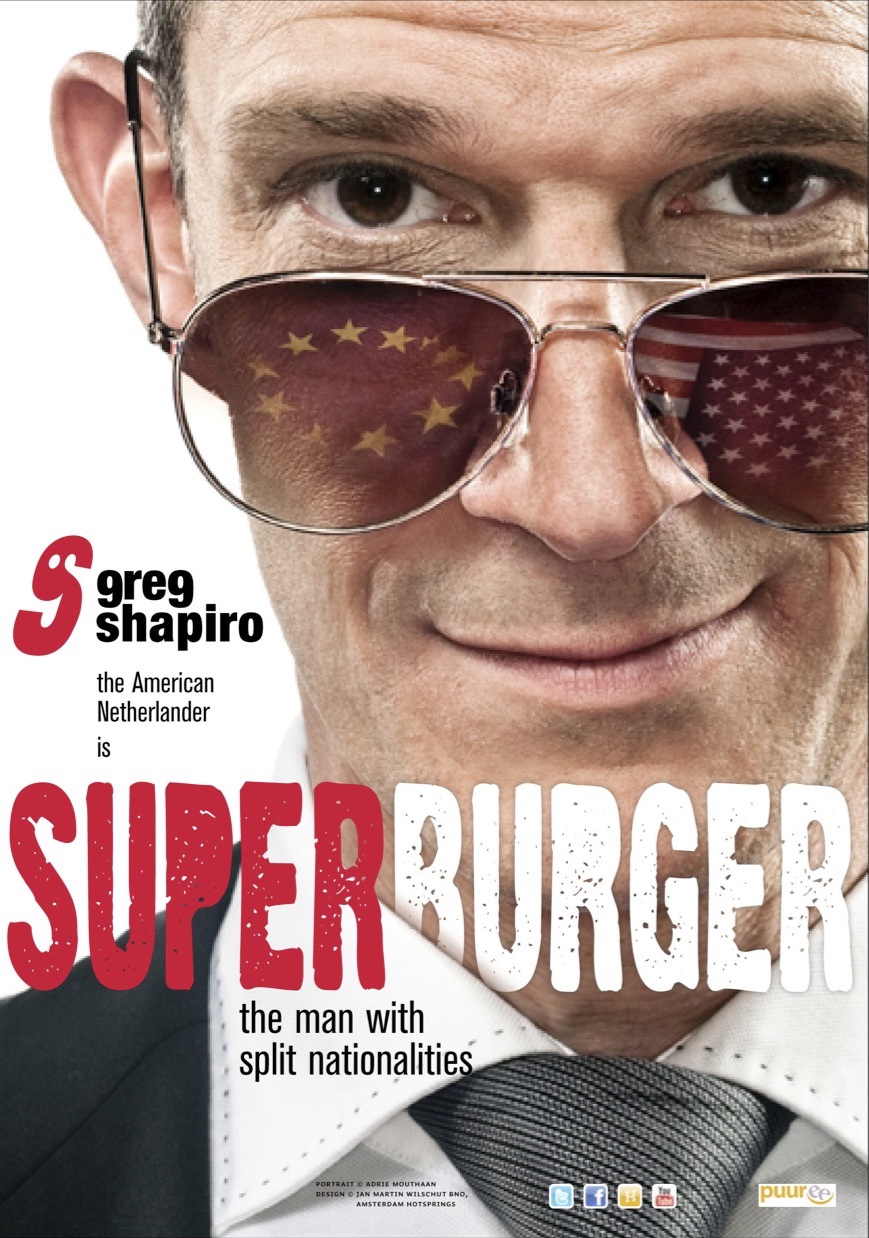 SUPERBURGER.
For me, it's the story of being a loud American in a small Dutch country. Some people have split personalities. I have split NATIONALITIES. Part American, part Dutch, part Eurotrash. And I'm like: "Europe, if you don't want to attract so many immigrants, then stop being so awesome."
But – what does it say about Dutch identity that their national anthem mentions Germany & Spain before even mentioning their own country?
How do I fit in? How do I balance my American awesomeness with my Dutch Doe Normaal? I guess I'll have to be a Superburger.
In his 3rd solo show, Greg Shapiro investigates the dilemma of dual-citizenship – or as he calls it 'Multiple Nationality Disorder.' Even as he awkwardly tries to prove his loyalty to his adopted homeland – Shapiro realizes he's not ready to give up his American identity. Not 100% American, not 100% Dutch. Shapiro is now a 'Superburger.'
REVIEWS for Greg Shapiro's 'SUPERBURGER'
'THE LAUGHS JUST KEEP COMING' – Camedy.nl
Samantha Brouwers, 14 december, 2012
In a full house at the Meervaart [Amsterdam], Shapiro exudes an enthusiasm that brings the whole room with him. Superburger – his 3rd solo – talks about his attempts at being super, and the typical Dutch response to it. Both the Americans and the Dutch laugh at the recognizable situations he describes. And the laughs just keep coming.
Shapiro loves putting Dutch habits under a microscope – those that we Dutch don't even realize are absurd. The show is performed in English with Dutch here & there. He articulates very clearly in both languages, so it's understandable to everyone.
Shapiro does not rely on cliches about Dutch or Americans. He digs deeper to find truly original things from both societies. This makes it surprising and fun for a wide audience. As an American would say "Awesome!"
http://www.camedy.nl/reviews/216/greg-shapiro—superburger-premiere
'INGREDIENTS ARE IN PERFECT WORKING ORDER' – Arnhem Direct
Marijke Bruin, 24 May, 2013
I now know how difficult it is for a 'foreigner' to be more Dutch than a Dutchman. Friday night I saw the show Superburger by Greg Shapiro in the Posttheater [Arnhem].
Greg is full of confidence, charisma and the 'loudness' of an American on the stage. The pace was good, his English- peppered with Dutch – is easy to follow. He involves the audience with targeted questions to his story. He has funny facial expressions and the comic movements of a man whose body is a bit too long. Ingredients are in perfect working order.
The American lives in Amsterdam has two bilingual kids and a very Dutch wife. He bicycles and thoroughly enjoys the other, 'normal' Dutch life and tells about this in his presentation. This show would be a great opportunity for English students in the Netherlands!
'FROM BEGINNING TO END IT WAS A LOT OF LAUGHTER' – Theater de Spiegel, Zwolle
Sandra Joosten, April 17, 2013
I went with some friends to see Superburger, and from beginning to end it was a lot of laughter. What a good show. The full house was a nice mix of Dutch and internationals. Greg Shapiro involved the audience very well. One of my friends is not very good at English, but she had no problem following the show. Greg Shapiro is very clear and articulates well.
After the performance Greg Shapiro joined the audience in the foyer, offering to pose for photos, which was very nice! All in all, an awfully nice evening!
WATCH Greg Shapiro's 'SUPERBURGER' – THE YOUTUBE PLAYLIST