Greg Shapiro's 4th Solo Show 'Part-Time Hypocrite' (2014)
In Greg Shapiro's 4th solo show 'Part-Time Hypocrite,' Greg Shapiro takes on Planet Earth and his own half-assed attempts to save it.
With his trademark painful honesty, Shapiro examines how he tries to be an Idealist and falls hilariously short. 'Part-Time Hypocrite' reveals the truth behind:
– Becoming a candidate for Amsterdam City Council.
– Volunteering for Greenpeace and causing an inter-office conflict.
– Bringing his daughter to a protest march; then buying her an iPod.
Shapiro the Idealist delights in shining a light on Corporate Greed. Shapiro the Hypocrite admits that sometimes he does corporate gigs for companies with Corporate Greed. He reveals the shocking truth of performing at corporate events for Big Oil. But he also makes time to tease the vegans for being Seitan Worshippers. And – while he invites the audience to join him in creating problems for Big Polluters – Shapiro also targets the lunatic greens who pollute the Green cause with conspiracy theories about GMOs with alien DNA.
Greg Shapiro- 'The American Netherlander'- is known for his work with Boom Chicago, Comedy Central and VARA HumorTV. His book 'How to Be Orange: an Alternative Dutch Assimilation Course' is available internationally. With over 1 million views on YouTube, Shapiro is now working on the weekly project 'Behind European Headlines.' He is currently touring with his shows 'Superburger: the Man with Split Nationalities' and 'Greg Shapiro Presents US/UK Headliners.'

REVIEWS:
'What's impressive is that he's lived in Europe long enough to know the local politics, as well as being able to poke fun at his homeland.'
– De Volkskrant
'Shapiro plays deftly with clichés and knows how to transcend them. He lands his jokes with precision.'
– Het Parool
'Greg is full of confidence and charisma. His English – peppered with Dutch – is easy to follow. He involves the audience with targeted questions to his story… Ingredients are in perfect working order.'
– Arnhem Direct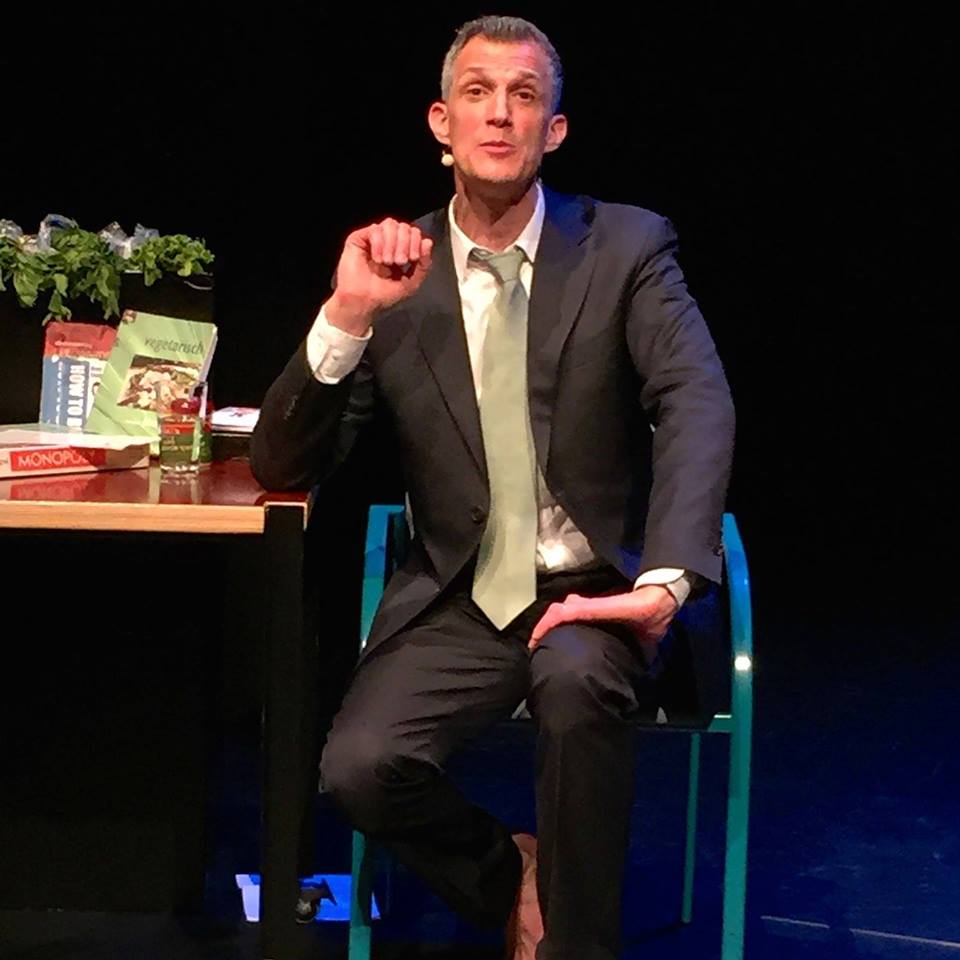 WATCH GREG SHAPIRO'S NEW ATTEMPT TO SAVE PLANET EARTH:
'CLIMATE NEWS COMEDY'