September 18, 2023
In
Blog
Shapiro Hosts Kipster Event
18 sept., 2023
Hooray! I hosted another green event, this time for a sustainable chicken farm called Kipster. 
Kipster (not Kipsta) started with 2 Dutch chicken farms, creating the world's first carbon neutral eggs. Now this Dutch business is expanding into the US, and to host their launch event, they called me: The American Netherlander. The event took place in North Manchester, Indiana (23 Aug). And Queen Maxima even taped a video message.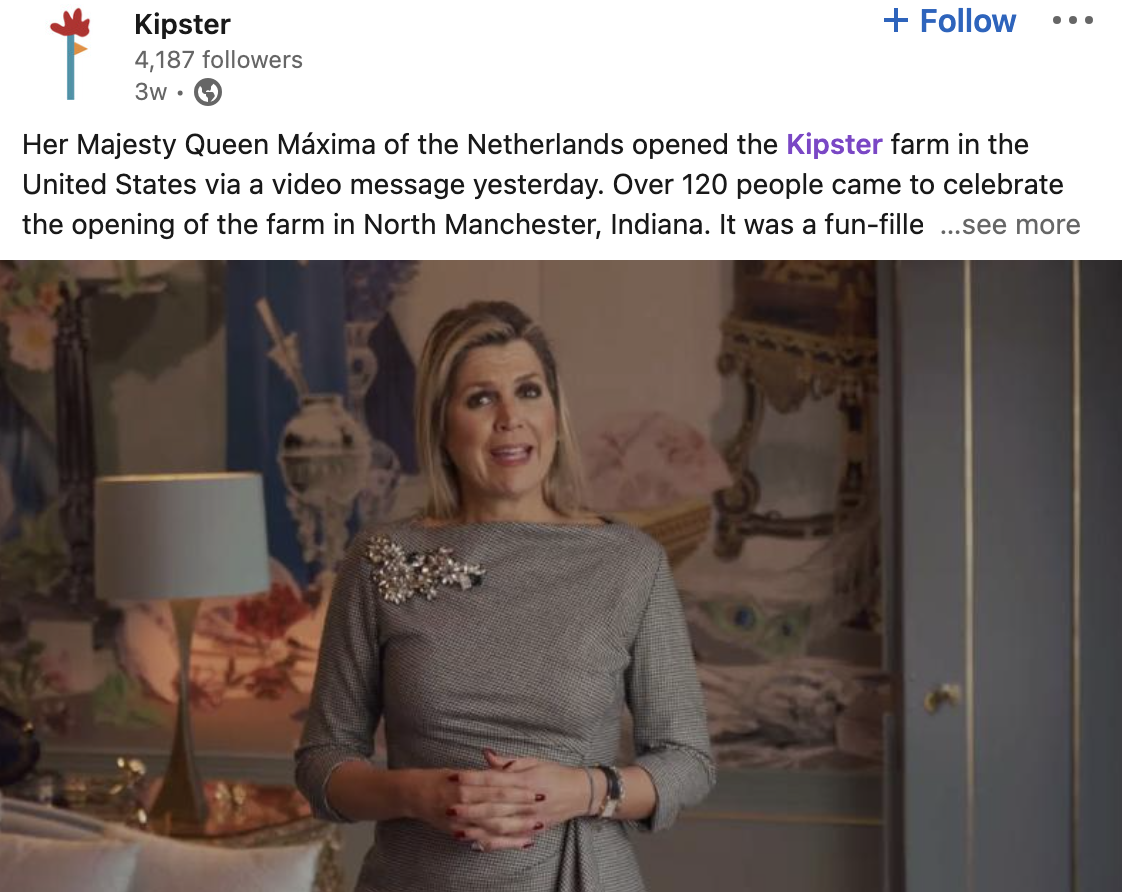 To prepare, I met with one of the founders Olivier Wegloop, who is a vegan and animal rights activist. Here he is in the blue shirt behind me (gawd it was hot in that tent…)

Olivier believes in the writings of animal rights activists like Temple Grandin, who said: "nature is cruel, but we don't have to be. If we are raising animals to be eaten, at least we can treat them with some respect." (and then we got to interview Grandin… see below) Since chickens are traditionally forest animals, Kipster has created – not only a cage-free environment, but – a fun forest.


As you can see, they still lay plenty of eggs.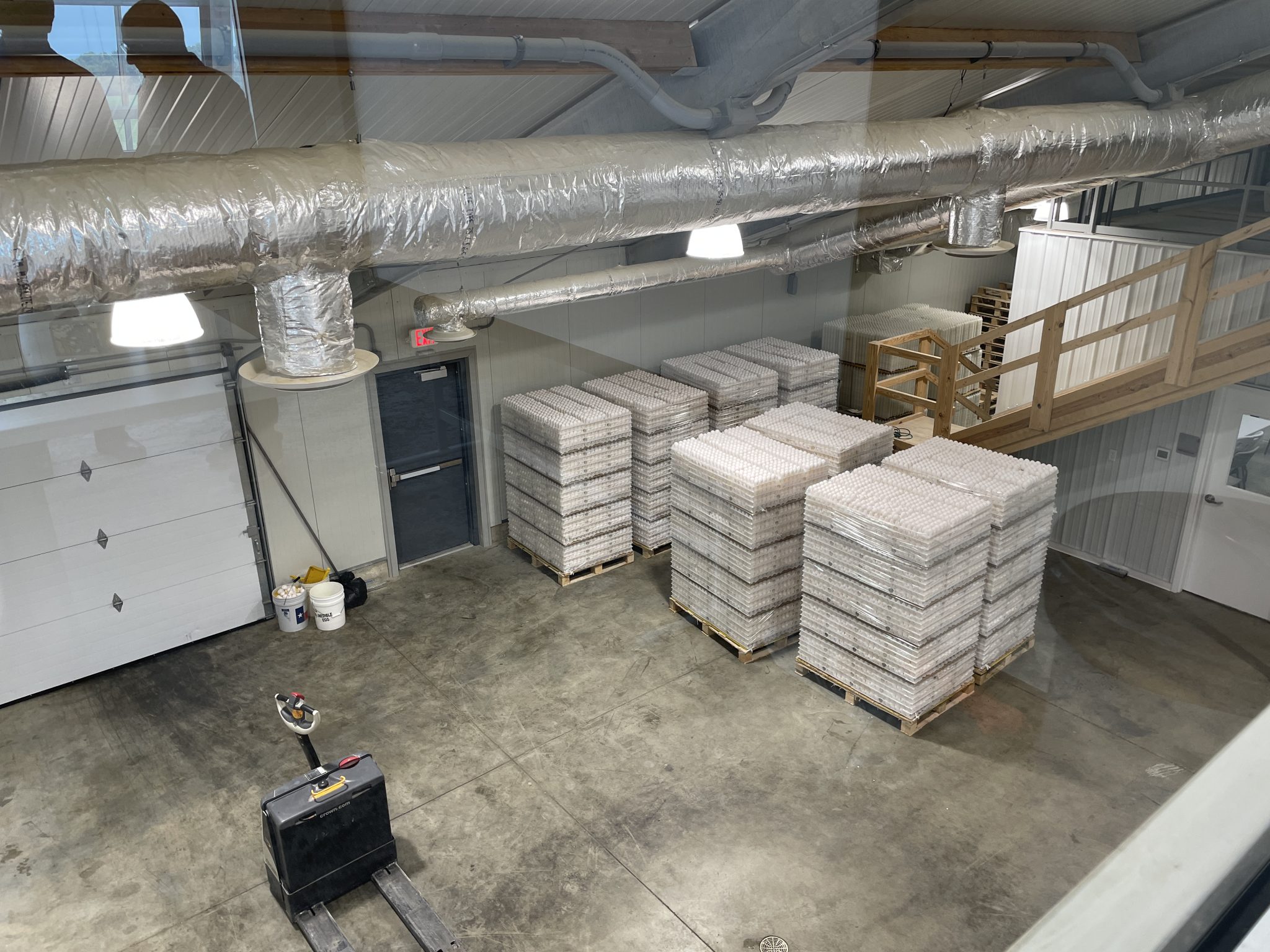 Another Kipster founder is Ruud Zanders, who explained the main reason their chickens are carbon neutral: they feed the chickens food waste.


Every year A) humanity grows enough food to feed 4 billion people – and then we give it to livestock, B) of all the food we produce, we waste about 33%. Kipster simply asks: "Why not feed the chickens food waste?" The motto of Kipster is "Crops should be about Food not Feed." This ground-breaking strategy is actually thousands of years old. But …
KIPSTER'S REVOLUTIONARY TWIST
The revolutionary part of Kipster is: Roosters for Meat.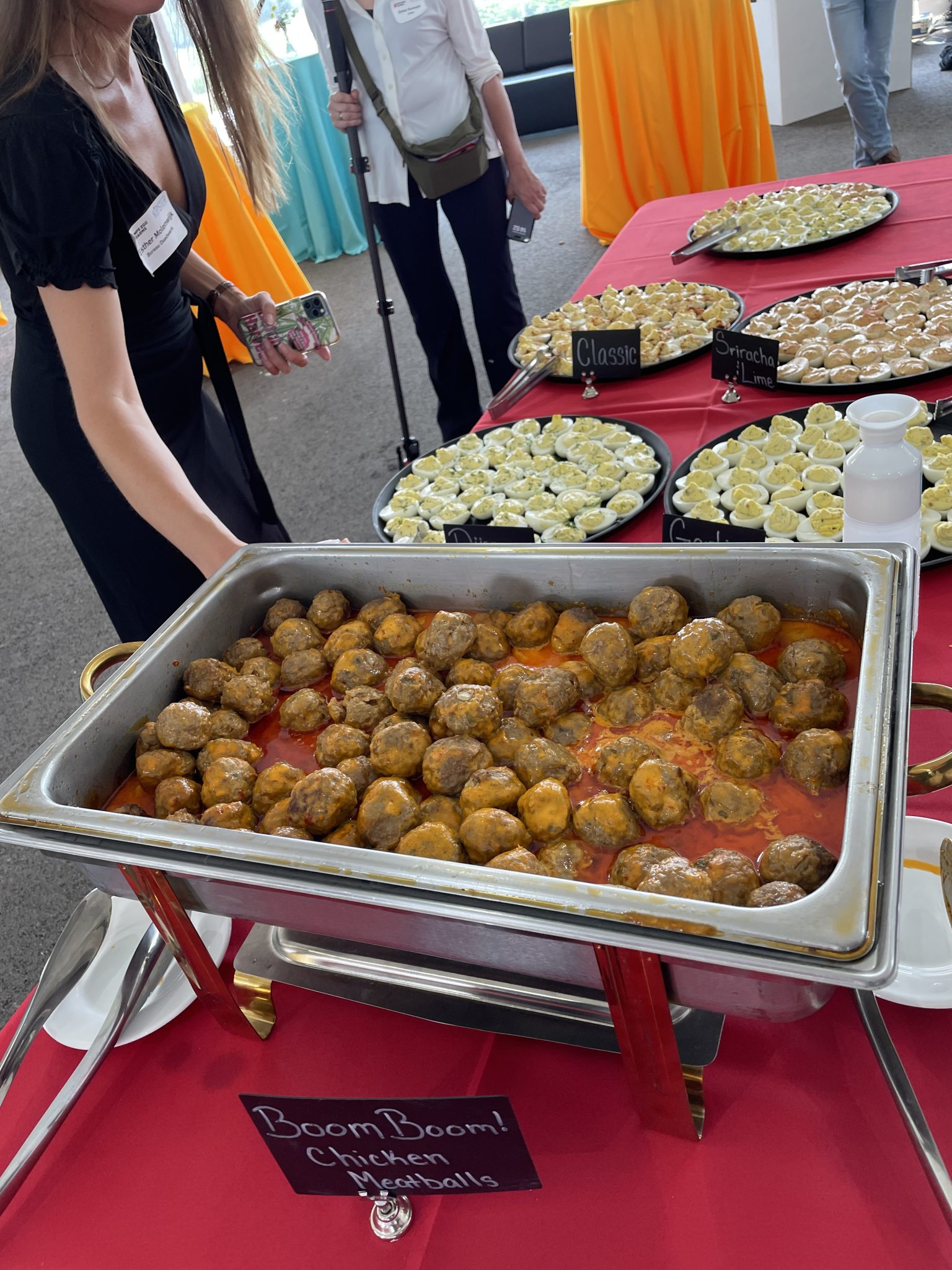 Since male chickens don't lay eggs – and they're considered too gamey to eat – the normal practice on chicken farms is to kill baby male chicks they day they hatch. (The waste product is hopefully repurposed into things like pet food.) But Kipster asks "what if we let the roosters grow to maturity (and then we eat them)? How gamey are they really?"

To end the event, Kipster served up the first-ever rooster meatballs. I met with Managing Director Sandra Vijn to try one. And I thought it the texture was perfect. The tray of 'Boom Boom' rooster balls was not finished at closing time, and I was afraid it might become food waste… but I suppose the rooster meat was fed to the hens. What better way to say 'Death to the Patriarchy' -?
Thanks to Olivier Wegloop for putting this event together. He was the one who arranged an interview with Dr Temple Grandin – via Livestream. Dr. Grandin is famously autistic, and she demanded to see all the questions in advance. Then – as soon as Olivier asked his first question – she just went on a rant about sustainable farming and animal behavior and didn't stop. She's a legend!

Thank you to Olivier & Sandra for inviting me. Thank you to the Dutch Consulate of Chicago for putting us in touch (years ago). And thank you to Markey's Event Services who created the backbone for an extremely professional show – including full build and build-down in extreme heat. And they made it look easy.
For more about Kipster in English: 
https://www.kipster.farm/
More Green-themed events hosted by Greg Shapiro:
https://gregshapiro.nl/blog/shapiro-hosts-sustainable-train-launch/
Greg's new Green standup special GREG SHAPIRO SAVES THE CLIMATE
https://gregshapiro.nl/blog/greg-shapiro-saves-the-climate/