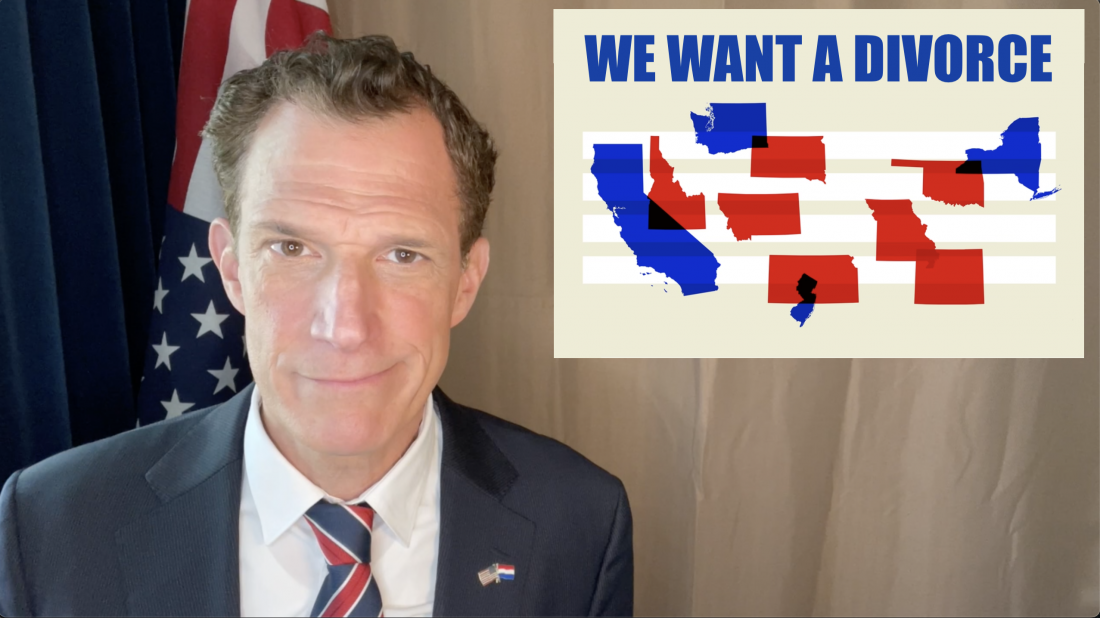 America, for Independence Day you need a RED STATE / BLUE STATE DIVORCE. 
Greg Shapiro for '240 Years Down the Drain'
4 July, 2022
Happy Independence Day, America! To be truly independent, you need a divorce. Specifically, the BLUE States should now be independent from the RED states. You know how America loves a sequel? Welcome to 'Civil War part 2: South, FU!' 
I mean, congrats to the Red States and your Supreme Court – one day ruling 'Free to Carry,' the next day ruling 'Forced to Carry.' In your America guns how have more rights than women.
And for anyone wondering "WHY are Republicans so anti-abortion?" It's because they want those unplanned pregnancies to go through – so they can have more kids to shoot at in schools.
And where are the Democrats? Joe Biden has really been putting the 'Depends' in Independence Day. I'd say the Democrats are 'rearranging the deck chairs on the Titanic,' but it feels more like they're the string quartet fiddling while the ship goes down.
And credit to The South. After they filed for divorce and the North said NO, The South has been playing the LONG GAME: making life so miserable for the Blue states that now the North is like "Yeah, divorce sounds good."
Of course we'll need two new country names. But for now the ones to beat are from the good old meme: 'United States of Canada' and 'Jesus Land.'
…
On a serious note, please excuse the USA's Supreme Court Death Cult currently setting fire to humanity. We hope to soon be reversing this error, like when Trump pulled out of the Paris Climate Accord and now we pretend like that shit never happened.
Come see the show: 
'240 Years Down the Drain: from George Washington to Donald Trump' with Pep Rosenfeld and Greg Shapiro. Premiering at Boom Chicago for the BCCF Boom Chicago Comedy Festival – Monday, 11 July 2022. 7:30pm.
For tickets:

WATCH: