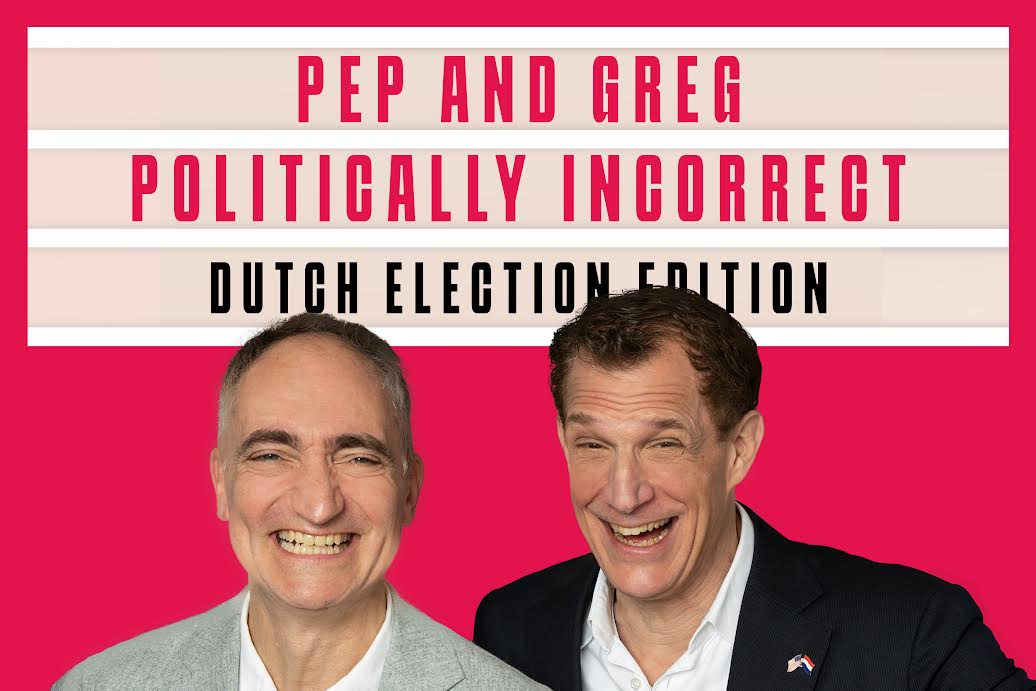 Pep & Greg Politically Incorrect!
7 nov, 2023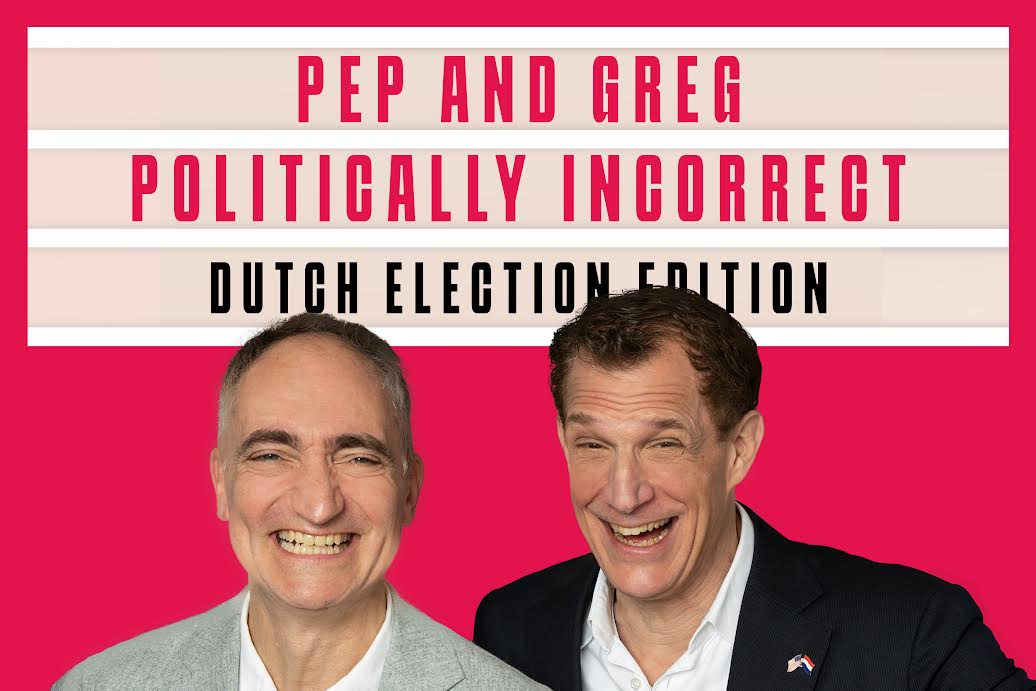 Pep & Greg are back! This time we're comparing the Worst of the 2023 Dutch election to the Worst of US election 2024.
The Netherlands: "We sent angry farmers with pitchforks to protest in the Hague…"
USA: "Hold my beer! (… storms Capitol on January 6.)"
To us, "Politically Incorrect" means politics being done incorrectly. USA, you have a 2-party system, which is very binary – almost bi-polar. And if the USA is bi-polar, then the Netherlands has multiple personality disorder.
I've been writing comedy with Pep Rosenfeld since we were in high school. (In 1985, we predicted Rupert Murdoch would take over TV stations and make America dumber.) We've written & performed political standup specials since 2001, including Trump Up the Volume – the show we were only supposed to perform in 2016.
Along the way, critics say:
'Superior. Hilarious satire' – Theaterkrant.nl
'Greg is a scarily real fake Trump' – Het Parool

From the Boom Chicago website:
Boom founder Pep Rosenfeld (Emmy nominated SNL writer) and Greg Shapiro (the famous 'Netherlands Second' Trump video) are back at Boom Chicago with their famous mix of comedy and current events.
They will skewer the latest from American and Dutch society. Will America elect a president in prison?
Will the cranky farmers take over the Netherlands?
Like usual, Pep and Greg will tackle it all and hold nothing back!
In a world filled with fake news, AI, conspiracy theories, guns, race issues, climate change, Mark Rutte retiring and Joe Biden not, Pep and Greg will make you laugh!
Pep and Greg Politically Incorrect is a new Boom Chicago show that is not just for those who follow America (though they will love it).
With standup comedy, improvisation and sharp commentary, the duo from Trump Up the Volume have created a new, smart show for anyone who likes to laugh.
PRAISE for Pep & Greg's previous Boom Chicago shows:
'Sharp satire and world class improvisation' – De Volkskrant
'Five stars! Greg and Pep have an incredible charisma and are very funny….' — D Robbinson, Trip Advisor
'Jokes were well-sculpted and wide-ranging. Engaging with the audience, they were quick, provocative and pugnacious.'  – ArtsTalkMagazine.nl
TICKETS: CLICK HERE
https://boomchicago.nl/pep-and-greg-politically-incorrect/
More Greg reviews? Click here:
https://gregshapiro.nl/media/theater-reviews-for-greg-shapiros-latest-shows/