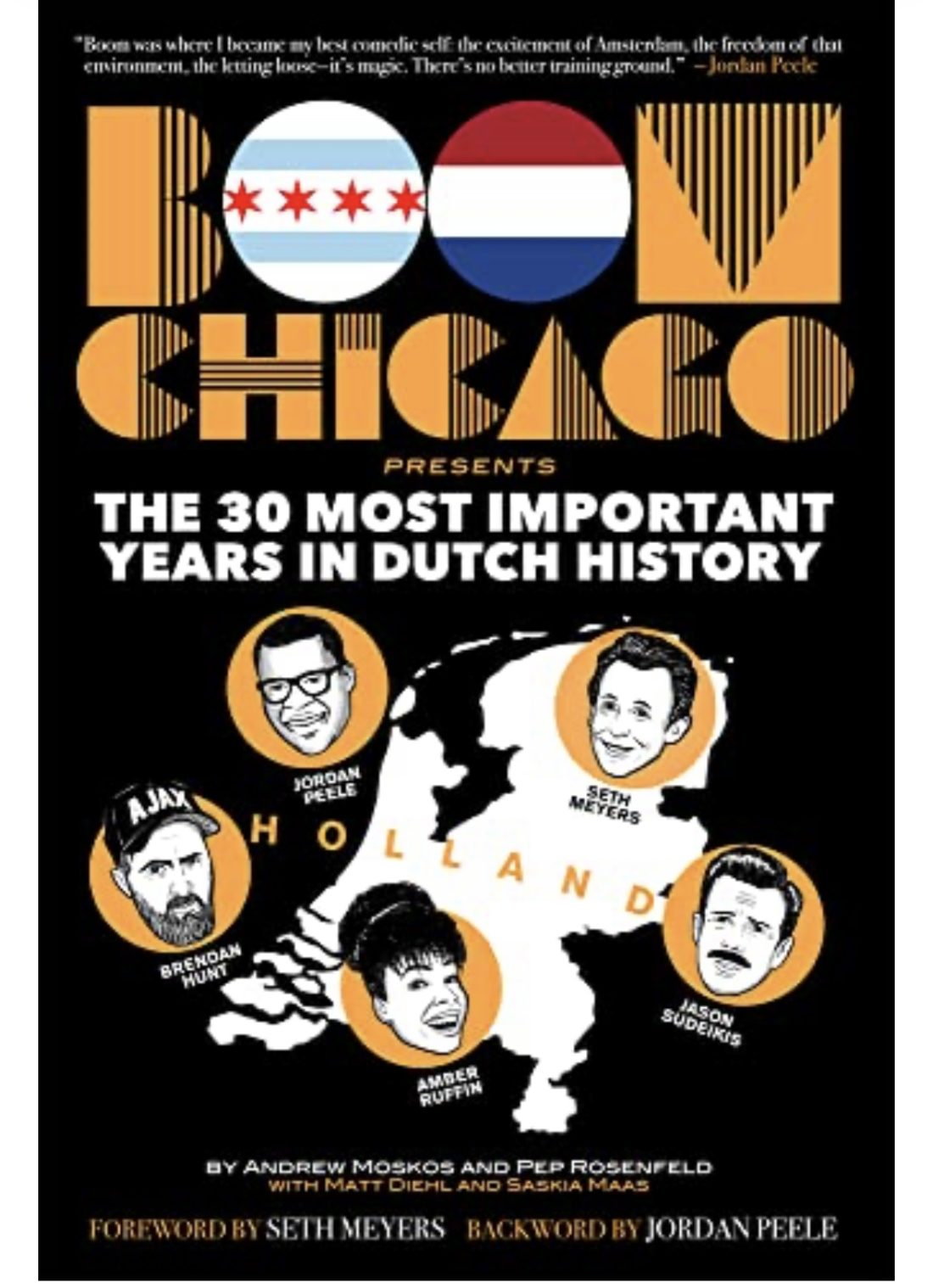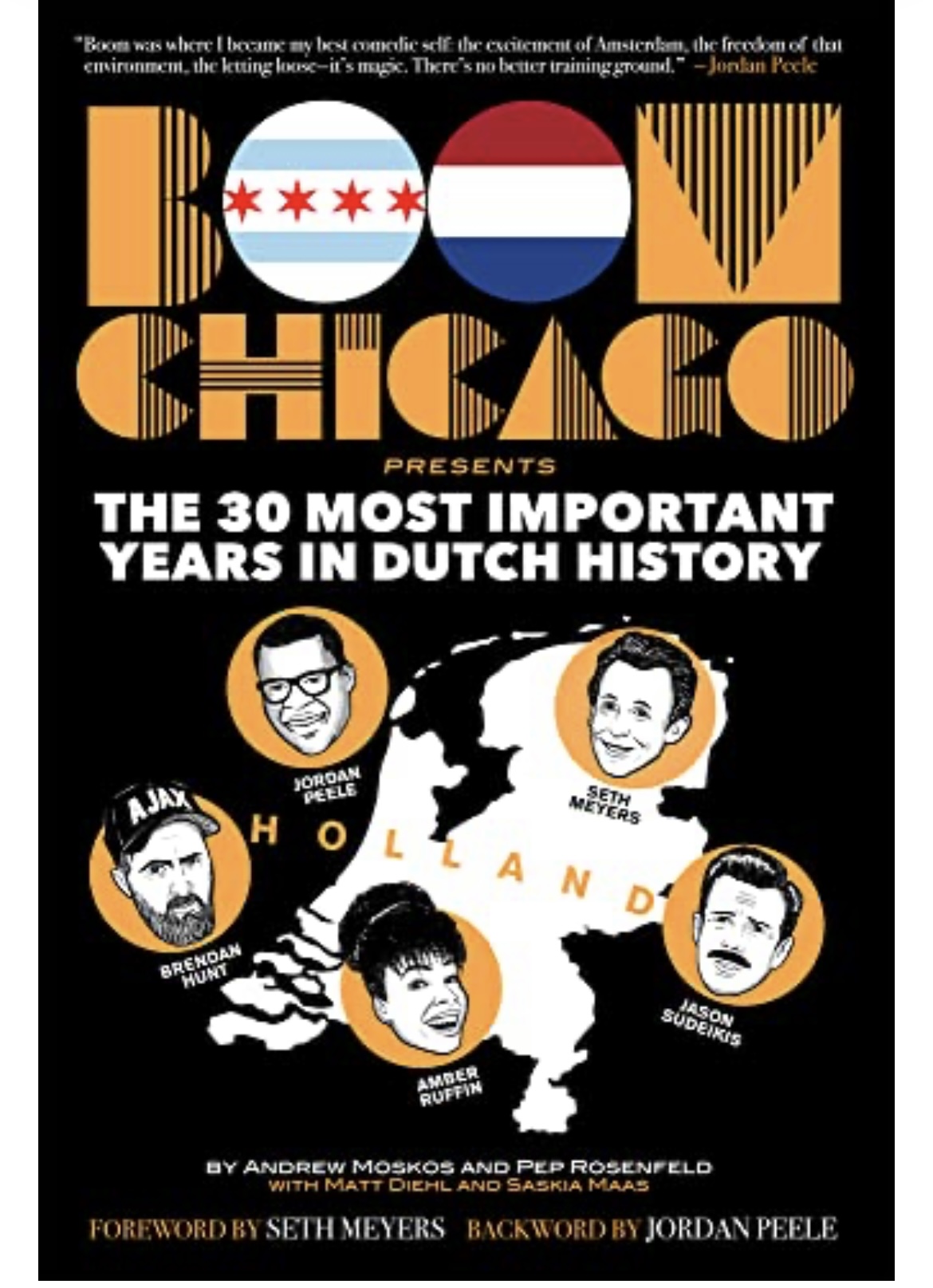 Greg Shapiro Contributes to the Boom Chicago 30th Anniversary Book
14 June 2023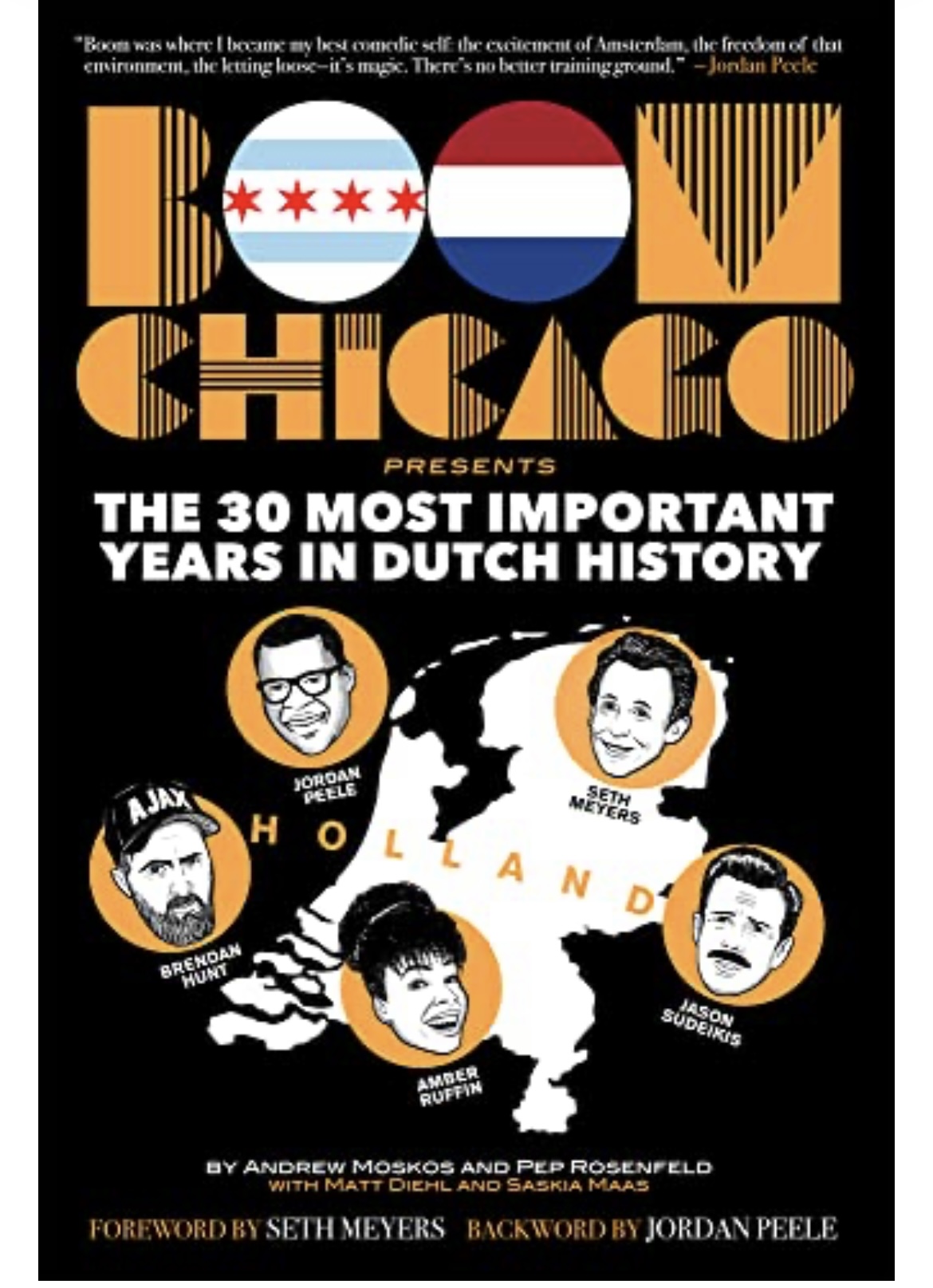 Finally, a proper oral history of the Boom Chicago Comedy Theater – and I got to contribute! About 30 years ago I came to Amsterdam to perform for one summer, and I never left. Along the way, I got to work alongside now-famous names, such as Seth Meyers, Jordan Peele and Kay Cannon. And the comedy form we all played was improvisation, where the Golden Rule is: "Make Your Partner Look Good Onstage." And looking at their careers, versus mine, I like to think I did my job VERY well. 
The book features a foreword by Seth Meyers, a voorwoord by Ruben van der Meer, a BackWord by Jordan Peele – and a Who'sWho Section by me (and fellow Boom Chicago lifer Rob Andristplourde). Author Matt Diehl teams up with Boom Chicago founders Saskia Maas, Andrew Moskos and Pep Rosenfeld to write the book. Rob and focused on the some of the juicy anecdotes that did not get covered in the oral history interviews. Such as:
-The time Seth Meyers improvised with an audience member who pretended to be retarded.
-The time Jordan Peele got into a rap battle with that guy from Seinfeld.
+ The reason Amber Ruffin's tooth was hanging on the wall.
And I added this bit about myself:
"Greg almost moved back to the US like Pep – until he met a Dutch woman named Inez (who was working in the Boom Chicago office). On the eve of his wedding to Inez, Greg's bachelor party was crashed by Inez and a number of Boom Chicago cast members. These included Kay Cannon as a naughty nurse, Liz Cackowski as a Catholic school girl, Jen Bills as a cop, and Holly Walker as a straight-up dominatrix. Together, they performed a girl band version of the Boy Band song from the show called "That's What He Likes." And no, it wasn't inappropriate! Because the only actual semi-stripping was done by Inez. And she is Dutch."
(Here is a pose from 1994 with the founders of Boom Chicago Pep Rosenfeld and Andrew Moskos.)
Pre-order "Boom Chicago Presents the 30 Most Important Years in Dutch History" here:
Read perfectly self-aggrandizing review here:
The book made the Chicago Tribune list 'Books to Read This Summer'
For US book tour dates in NY Chicago LA:
Boom Chicago 30th Anniversary Book: "Boom Chicago Presents the 30 Most Important Years in Dutch History"
An exciting history of the improv group you've never heard of that changed comedy in America—this is the story of Boom Chicago in Amsterdam as told by its founders and most famous alumni
"It's kind of crazy, the impact on culture so many Boom Chicago alums have had. Boom was where I became my best comedic self: the excitement of Amsterdam, the freedom of that environment, the letting loose—it's magic. There's no better training ground." —Jordan Peele
"Boom Chicago should have ended up on the scrap heap of 'Terrible Ideas Americans Have While Stoned in Amsterdam.' But when you stubbornly love one thing (comedy) as much as another thing (Amsterdam), you just believe they should be together. And here we are—thirty years later, Boom Chicago is alive and kicking." —Seth Meyers
"Working at Boom Chicago was an unbelievable experience. Thank goodness someone was smart enough to write it all down! You're lucky 'cause you get to read about THE most exciting, fun, and illegal time I've ever had!" —Amber Ruffin
Featuring interviews with
Meyers, Peele, Ruffin, Jason Sudeikis, Ike Barinholtz, Greg Shapiro, Kay Cannon, and many more; and a sixteen-page, full-color insert with both behind-the-scenes snapshots and images from live performances.
What do Ted Lasso, Get Out, Late Night with Seth Meyers, 30 Rock, A Black Lady Sketch Show, Breaking Bad, Saturday Night Live, Girls5Eva, The Colbert Report, Inside Amy Schumer, Pitch Perfect, Key & Peele, The Daily Show, MADtv, Rick and Morty, The Amber Ruffin Show, Horrible Bosses, Portlandia, It's Always Sunny in Philadelphia, Suicide Squad, Superstore, How I Met Your Mother, Wicked, The Pee-Wee Herman Show, Brooklyn Nine-Nine, and Broad City all have in common? They all feature writers, creators, directors, or stars who got their start at Boom Chicago.
Having risen roughly to the middle of Chicago's cutthroat comedy scene, Andrew Moskos and Pep Rosenfeld decamped the Midwest for Amsterdam, Netherlands in 1993 to start their own improv comedy troupe, Boom Chicago. In a foreign land with zero tradition of English-language humor, Moskos and Rosenfeld unwittingly created the finishing school for some of today's most groundbreaking comedic talents. They (along with coauthors Matt Diehl and Saskia Maas) document this journey in the definitive oral history Boom Chicago Presents the 30 Most Important Years in Dutch History.
From its stages, Boom Chicago went on to launch cultural game changers like Seth Meyers, Jordan Peele, Amber Ruffin, Jason Sudeikis, Brendan Hunt, Ike Barinholtz, Kay Cannon, and Tami Sagher (and that's just a partial list). At Boom, these young upstarts honed their craft in front of unsuspecting foreign audiences and visiting dignitaries like Burt Reynolds, Run-DMC's Jam Master Jay, Dutch royalty, and the Netherlands's prime minister—all while navigating a world with legal weed and prostitution, annual holiday celebrations involving blackface, cookies with weird racist names, and football that has nothing to do with the NFL. From this culture shock, this collective created a more topical, inclusive, tech-savvy humor that would become the dominant comedy style of our time.
Praise for Boom Chicago:
"The Groundlings. The Harvard Lampoon. Second City. These comedy institutions have been supplying Hollywood with a steady stream of talent for decades. Well, there's another name—almost as influential—that you've never heard of: Amsterdam's Boom Chicago. Huh?"—GQ
"A small theater in Amsterdam became the most influential American comedy factory you've never heard of . . . Boom alums have had a significant hand in many of the shows that defined the past two decades of comedy." —New York 
For reviews of Greg's book The American Netherlander: 25 Years of Expat Tales:
https://gregshapiro.nl/media/theater-reviews-for-greg-shapiros-latest-shows/