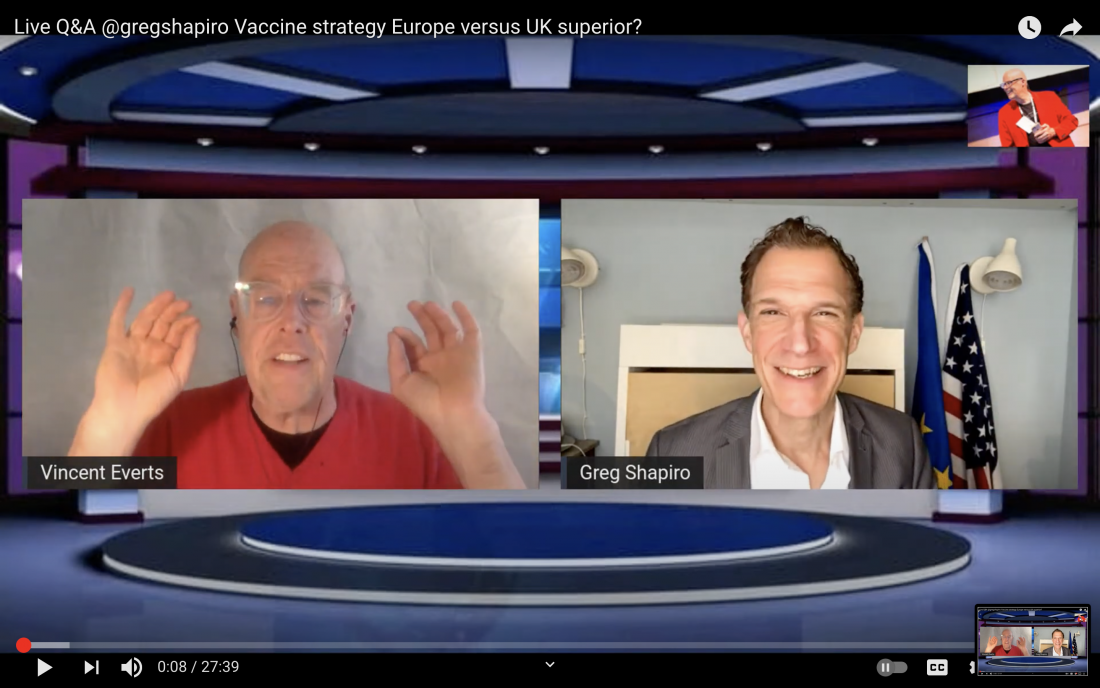 Q&A: Why EU Vaccine Strategy Is Not as Bad as You Think
On my YouTube channel, I have a long-running show called 'United States of Europe' – Making fun of the EU the American way. So of course, I had to make fun of the EU's comically slow Covid vaccination rates, as compared to the US and the UK. BUT along the way, I realized – it's not that simple. In fact, in many ways EU vaccination policy is not as bad as you'd think.
In the video, I started with:
"The World Health Organization (WHO) has criticized the rollout of coronavirus vaccines in Europe as being 'unacceptably slow.' I'm in the Netherlands and as of April, even my friend who works in health care can't 'get a jab.'
I know the Dutch are famous for the 'Netherlands Second' video. But now it's more like 'we know it's going to be the rest of the EU first, but can we just say NL 27th?'
When it comes to vaccinations, you have to think of the German poet Heinrich Heine who said: 'When the end of the world comes make your way to Holland. There everything happens fifty years late.'"
…SO that was where I would normally end the video. BUT this time I decided go a bit deeper.
One of the people who appreciated my video was Trendwatcher Vincent Everts. Vincent is a longtime friend of Boom Chicago, (and he hosts a weekly online show with America expert Charles Groenhuijsen). Vincent noticed that my EU vaccine video was a lot longer than usual. Because there was a lot more to cover! So we did a deep dive interview. Well, it wasn't supposed to be such a deep dive, because it was on a Saturday morning. And he totally missed his slot on the tennis court.
For more regular updates on The United States of Europe, check http://youtube.com/gregshapiro .