PEP & GREG SAVE AMERICA at Boom Chicago Theater
8 March 2023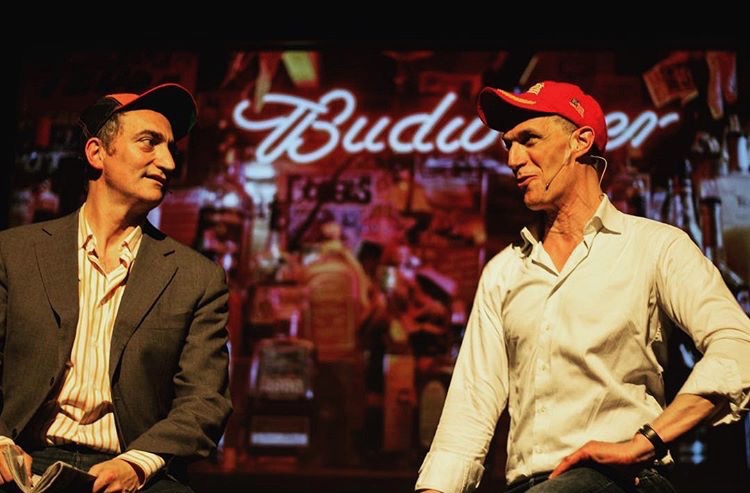 Pep Rosenfeld (SNL) & Greg Shapiro ('Netherlands Second' video) are back at Boom Chicago – to save America! And also to make fun of Marjorie Taylor Greene. This political comedy show dares to make the argument: it's safe to be proud of America again! In fact, that's our only option – if we want to beat Trump in 2024. (yes, it'll be Trump.)
The 2024 election is already underway.
-Will Trump be replaced by someone worse?
-Will Joe Biden survive until 2024?
– AND (Will FOX News survive until 2024?)
Inspired by Joe Biden's Summit for Democracy series, Pep & Greg Save America proposes 5 simple changes that could make a HUGE difference – and they make it funny. Pep & Greg have done 10 political comedy shows so far, with their patented mix of standup comedy and improvisation. As in their previous hit show Trump Up the Volume.
And this time we brought a friend! Pep & Greg Save America features songs and improvisation by the critically-acclaimed Stacey Smith and Sacha Hoedemaker.
Pep Rosenfeld: in addition to his work at Boom Chicago, Pep was also nominated for an Emmy for his work at Saturday Night Live.
Greg Shapiro: Greg is known as the host of Boom Chicago's Comedy Central News, as well as the voice of Donald Trump in Arjen Lubach's viral video 'The Netherlands Second.'
REVIEW: PEP & GREG SAVE AMERICA AT BOOM CHICAGO
as seen in ArtsTalkMagazine.nl
"JOKES WERE WELL-SCULPTED AND WIDE-RANGING."
"ENGAGING WITH THE AUDIENCE, THEY WERE QUICK, PROVOCATIVE AND PUGNACIOUS."
PRAISE for Pep & Greg's previous Boom Chicago shows:
'Sharp satire and world class improvisation' – De Volkskrant.
'Five stars! Greg and Pep have an incredible charisma and are very funny…. Sassy Stacey's super singing is the icing on the cake.' — D Robbinson, Trip Advisor
'Superior. Hilarious satire' – Theaterkrant.nl
|'Greg is a scarily real fake Trump' – Het Parool
More Greg reviews? Click here:
https://gregshapiro.nl/media/theater-reviews-for-greg-shapiros-latest-shows/
Fun for the whole family! (Last time, these folks brought 3 generations.)