GREG SHAPIRO HOSTS PePijn Comedy Club JANUARY – IN ENGLISH
12 Jan., 2023
So much talent developing in the English-language comedy scene in The Netherlands! And I get to curate it for PePijn's Comedy Club. Here's the Best-of the January edition:
(Yes, I'm wearing a mustache. I hate it! I had to grow it out for a film role. Coming soon…)
(previously…)
I am lucky enough to be programming one of these English comedy nights, in one of my favorite little spaces: Theater PePijn in The Hague. Normally reserved for solo shows and Dutch 'cabaret,' it is known among comedians as one of the best spaces to perform.
The January show:
SJOERD SCOTT.


He's a black man from the Caribbean – but his name is Sjoerd. The jokes write themselves. Yet the magic came in his crowd work: "Are you two together? I hope so, because she's got her head on your shoulder. Sir, if she's NOT with you, please blink three times." Plus: "How did you two meet? At work? So: 'unprofessional?' Should someone be calling HR?"
KEN PARSONS.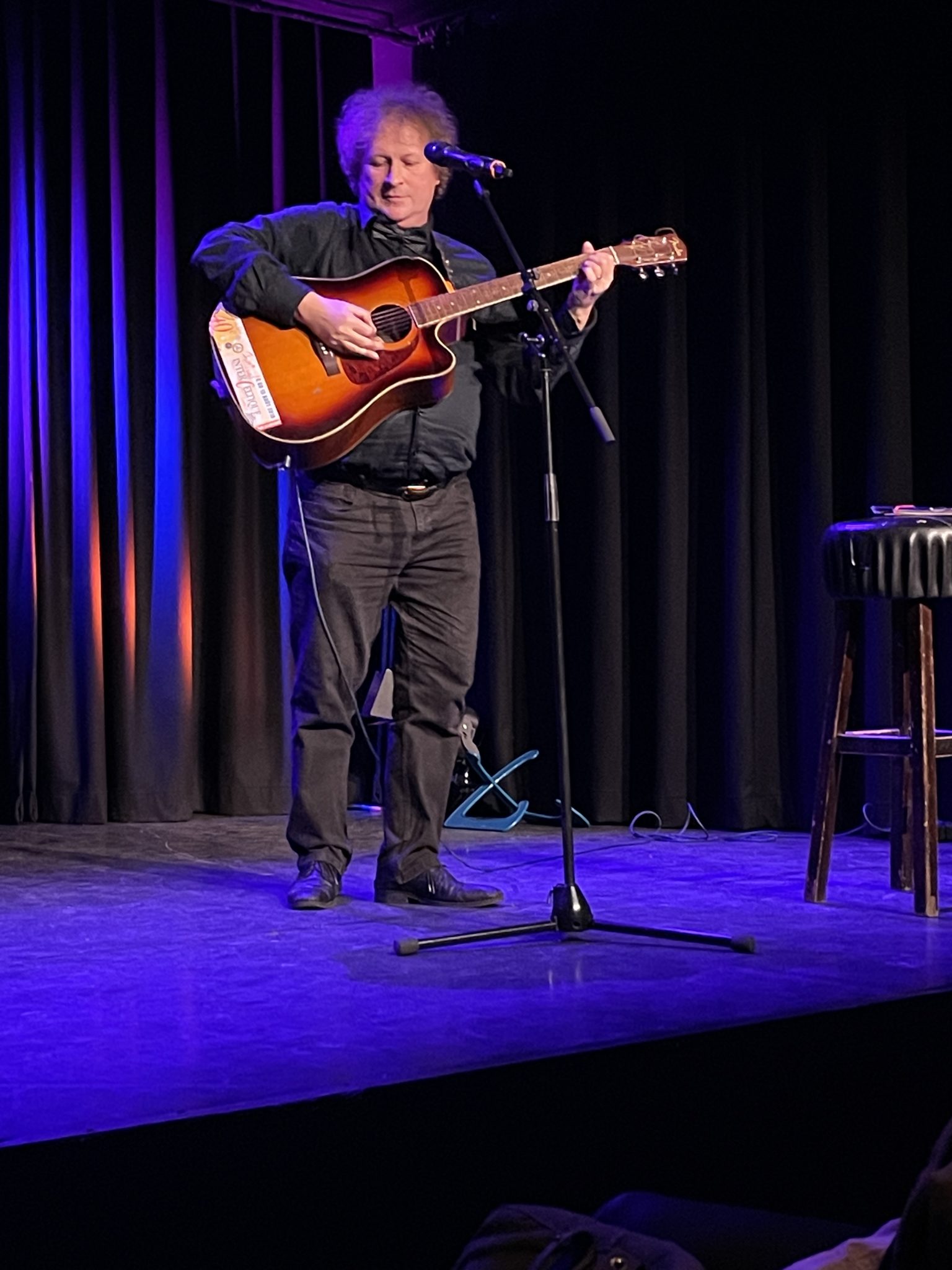 Ken is a folk-singing comedian, who is not afraid to talk about mental health issues during the holidays. Hence, he introduced a new song called "Bipolar Christmas." Ken is also a Dutch teacher, and his roast of the Dutch language is legendary. And – as a former squatter – Ken knows all the best places to organize his many comedy shows.
JACK HEYJACK. Stepped in as our 5-minute spot. He talked about being legally blind. (After the legally deaf Lara Ricote last month, I can see a pattern developing.) If I can make him stick to material about the realities of blindness (and playing the kazoo), he'll be all right.
KENDRA BORGEN.
Our headliner for the night! "Anybody doing any New Year's Resolutions? Because statistically, 80% of people fail by Day 8. And the rest of us fail by Day 12. …That's today!" Kendra also talked about trying to get in shape after the Covid lockdown: "The only 19 I got was kilos. I gained so much weight, I went from NOT being in an at-risk group – for getting the early vaccine – to being IN the at-risk group."
Theater PePijn was established as a tryout space for the bigger names in Dutch theater and 'cabaret.' You can still find big name artists for a tiny little price, as they try out new material.
THE NEXT DATES FOR PEPIJN'S COMEDY CLUB – IN ENGLISH
…13 April, 2023.
I'll announce the comedians on the January lineup in early April.
https://www.diligentia-pepijn.nl/agenda/4432/Various_Stand_Up_Comedians/PePijn%27s_Comedy_Club_But_in_English

CLICK HERE FOR MORE GREG SHAPIRO STANDUP:
https://gregshapiro.nl/greg-shapiro-web-archive/
PePijn Comedy Club JANUARY